About Susan Byron . . . . .
Hi, my name is Susan Byron and I live on the West coast of Ireland with my partner Michael and two lazy cats. My four children are now grown up and happily away off doing their own thing, so I have more time for travelling, writing and photography. Oddly enough the more I travel, the more I appreciate home and Ireland, not only the weather we have no extremes ! but the slower pace of life and even the food and drink that has shaped us as a race and our landscape as a nation, over the last millennia into the rich tapestry and vast untapped natural resource we have on our doorstep today...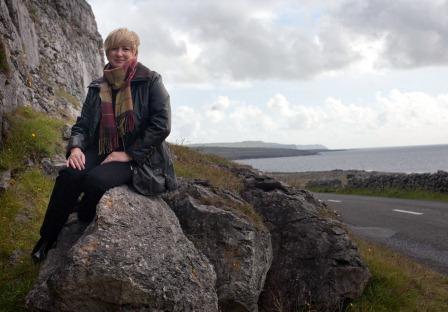 How do I know about all this stuff? Well, I was born in Dublin where I grew up, a Doyle or Dubh Ghaill (dark stranger) of Viking origin so (exploring is in my blood). My father worked for the newsroom in RTE television and was always in search of the next great story, so my childhood was spent exploring just about any new lead, deserted schools, forgotten great houses, ruined castles, holy wells, ringforts etc. The majority of which have now become official tourist attractions under the auspices of the Office of Public Works or local tourism initiatives. Summer holidays were spent sailing in Wexford, or camping out in the wilds of Kerry. When I got married (Byron) we moved to Meath and became engrossed in the Boyne Valley and beyond, cruising the river Shannon and exploring the magical Midlands with my children.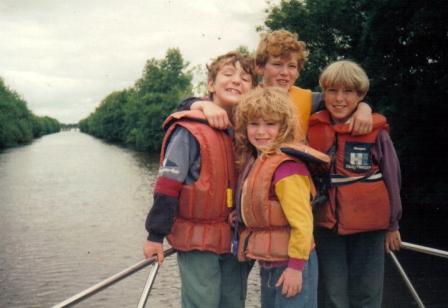 Finally, we moved West and discovered the Burren which is very beautiful. With Mayo, Connemara and Donegal just north of me and Kerry, West Cork and Waterford to the south not forgetting the Magical Midlands to the East. A couple of years ago, I starting exploring Northern Ireland in depth and fell truly, madly and deeply in love with those six counties, so you can expect to find more Hidden Gems being added to the website everyday. Whether you are visiting Ireland for the first time or are a native looking for somewhere new and interesting to explore on a fine day or weekend away, I hope my recommendations on what Ireland has to offer will enrich your life as it has mine.
In addition to the website, I have written 3 eBook Travel Guides which are available on Amazon.com which each contain the cream of the crop of my recommendations as well as original photographs of Ireland, clickable links and Google maps of each location.
Where to Eat, Sleep & Play in Ireland 2014 Ireland's Hidden Gems - Things To Do Ireland's Hidden Gems - Places To See
If you would like to get in touch with me re planning your next trip to Ireland , you will find my contact details below or feel free to post questions on my Facebook Page there is always a lively conversation going on over there about Ireland, so even if I don't know the answer, somebody else surely will !

To contact Susan Byron please click here