Guided Tours of Ireland's Hidden Gems 2021 - New Tour Date Schedule for 2021 to accommodate Covid 19 Vaccination Programme & International Travel - See below for details & Happy New Year Susan Byron
About Susan Byron
Hi, my name is Susan Byron and I live on the West coast of Ireland with my partner MJ and our fat ginger cat Percy and new arrival Pluto. My family are grown up now and happily away off doing their own thing, thankfully! So, I have more time for travelling, writing and photography.
Oddly enough, the more I travel, the more I have come to love and appreciate Ireland and just lately Scotland. And while we like to moan about the weather here, we never get extremes of heat or cold, perhaps a little too much rain, but then again it wouldn't be as green and beautiful as it is, if it weren't for the rain!
The pace of life too is so much slower here and we don't take ourselves too seriously, that's for sure. But above everything, it's Ireland's scenery and being outdoors in nature that I love the most and that I want to share with you as well as the Hidden Gems of Ireland be it a holy well, beautiful beach, fairy tale castle, a stunning view.... Nowhere else in the world is there such diversity in a relatively small space with each county having its own unique culture, things to do, places to see and people to meet, we are truly blessed as a nation....
Susan Byron, Sheep's Head, County Cork
Susan Byron background
Of course, I am often asked where I get my information from or how do I know about all of these strange and wonderful places? Well, apart from having researched intensely and explored Ireland extensively over the last 12 years since I started this website, I have met with some great characters who have very kindly shared their local knowledge with me on my travels. Besides, I was born in Dublin where I grew up, a Doyle or Dubh Ghaill (dark stranger) of Viking origin so exploring is in my blood. My father worked for the newsroom of RTE television and was always in search of the next great story. So, my childhood was spent on family jaunts, following up just about any and every new lead, deserted schools, forgotten great houses, ruined castles, holy wells, ring forts etc which no doubt encouraged and fed my natural curiosity. Summer holidays were spent sailing in Wexford, or camping out in the wilds of Kerry and Connemara. When I got married (Byron) we moved to Meath and then became engrossed in the Neolithic monuments there, the Boyne Valley and beyond, cruising the river Shannon and exploring the Magical Midlands with our four children, Stephen, Ross, Daniel and Audrey Byron....
Susan Byron Family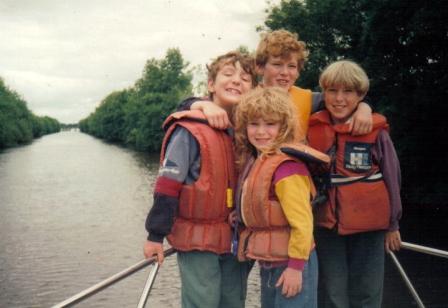 Stephen, Ross, Daniel and Audrey Byron
Finally, we moved West and discovered the Burren which is a very beautiful karst limestone landscape that is carpeted with alpine flowers, gentians and wild orchids in early summer. With Connermara, Mayo and Donegal just North of us and Kerry, West Cork and Waterford to the South, not forgetting those Magical Midlands to the East, I know I am truly blessed especially now that I have my darling little grandson, Lee Patrick Byron to share my travels with....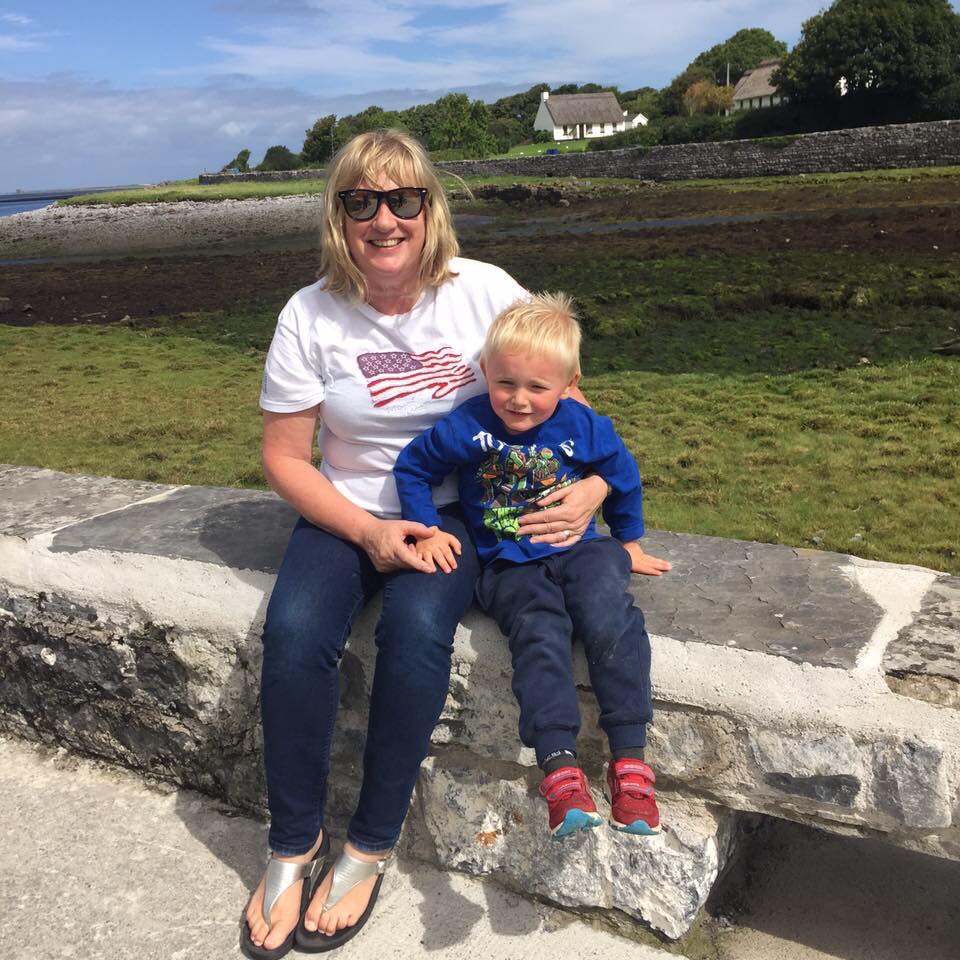 My grandson Lee Patrick Byron
Susan Byron Guided Tours
In 2017, I led my first ever Guided Tours of Ireland's Hidden Gems which were a huge success. We were blessed with wonderful weather and I got to show off Ireland at her beautiful best and everyone have a wonderful time. We had more of the same on the 2018 tours, with even more wildly enthusiastic and happy participants, who can't seem to get enough of Ireland, thankfully as they already plan on returning in 2020 for a Reunion Tour ! 2019 was equally as good but busier with an extra tour in September which was amazing as the light was low and the colours of the landscapes were much more intense. Is it any wonder Ireland has become hugely popular as a touring destination, where else would you get such fantastic scenery and friendly people?

Shooting the breeze on the June Tour 2018
My tours are almost sold out for 2020, there are just a few places left at a discounted price, you can click on the following link for more information if  you fancy joining me next year?  
I will be running 3 tours, one each in May and June and September of 2020, which will be limited to 22 people (max) so that I can take you off the beaten track to those extra special places that is just not possible in large coaches. Besides my tours are all about providing a personal and authentic experience of Ireland and not just a commercial, box ticking exercise. And as always, I am really looking forward to showing off the real Ireland, especially the Hidden Gems that I am so passionate about, to each of my guests, plus plenty of fun and good times, along the way.....
For more information re availability and prices of Susan's Guided Tours please click here 
Or you can read the reviews of the 2017, 2018 & 2019 Tours here
Ireland Travel Guide
contact Susan Byron
As you can imagine I get a lot of enquiries, but I do reply to each and every email personally, so please be patient if it it takes a day or two. Or message me on my Facebook page where there is a lively global conversation going on about Ireland 24/7. You are more than welcome to join us and pitch in with any questions you might have about Ireland, because even if I don't know the answer, someone else surely will.....
All the best, Susan
To contact Susan Byron please click here