Guided Tours of Ireland's Hidden Gems 2022 Dates available for booking now with Susan Byron 
Irelands Best Beaches
Irelands best beaches come into their own whenever we are lucky enough to get a spell of hot weather to enjoy them. 2016 was a scorcher, for all of a fortnight from the end of May to the beginning of June. What's seldom is wonderful in Ireland so we tend to down tools and just head for the beach because we know it will be short lived. But when the weather Gods are good to us there is nowhere in the world where you will fine better or more empty beaches. I kid you not, in Donegal alone there is a beach for everyday of the year, Wexford not so many but it's known as the Sunny South East for a reason....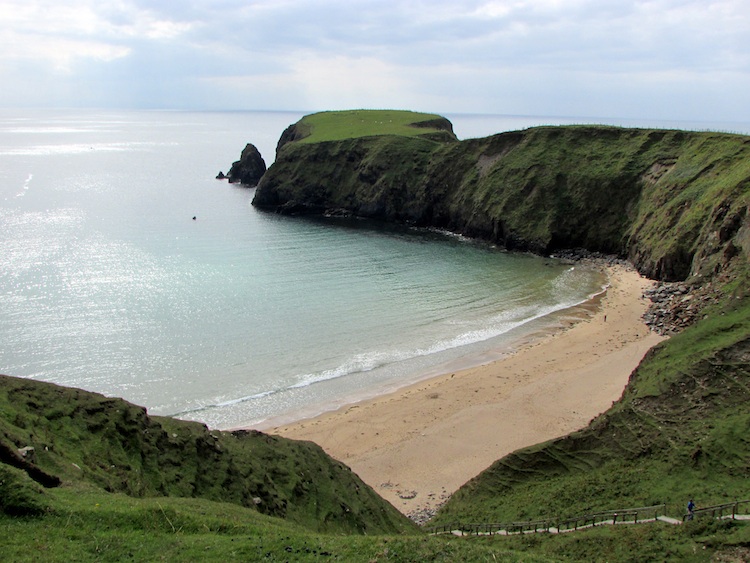 irish weather
Because of the weather there are no 'costas' in Ireland (Thank God) however on a 'pet' (unseasonably warm) day in May or September you could be forgiven for thinking you were in Greece, should you find yourself on one of Irelands best beaches, Coral Strand (near Clifden) lapped by turquoise waves with only a couple of cows or sheep to keep you company which is often the case! Once upon a time (2013) I was above in Donegal on July 12th, one of the busiest days of the year and a huge holiday of sorts for Northern Ireland people when the sun was splitting the stones. As it was baking hot, I decided to stop off at Ballymastocker beach, another of Irelands best beaches (rated as one of the Top 10 in the World by the Lonely Planet) for a swim and apart from a couple of other families, I had the beach to myself....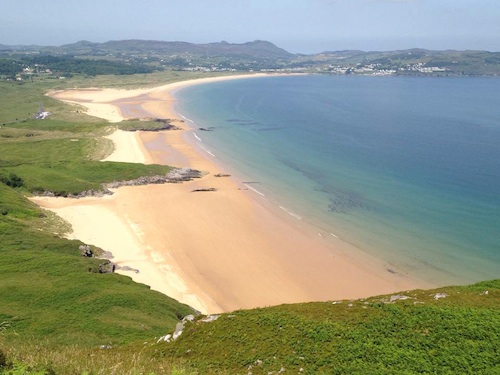 Ballymastocker Bay, Donegal, Ireland
popular beaches
Which isn't the case on the east coast obviously, Irelands best beaches there tend to be busier due to their proximity to the capital, Dublin city. Although in the sunny South East, miles of uninterrupted beaches such as Curracloe in Wexford have doubled as Normandy landing beaches in WW2 movies another of Ireland's claims to fame! Whereas on the West coast of Cork, Kerry, Galway, Mayo and definitely Donegal, the beaches can be pretty isolated, which is fabulous if you fancy a bit nude sunbathing or skinny dipping....
But be warned, even with the Gulf Stream warming the water the temperature never rises much above 10 degrees celsius. And of course, never, ever swim alone as it can be very, very dangerous, no matter how inviting it looks, with hidden currents and undertows. There are 70 Blue Flag Beaches tested for water quality in Ireland, many of which have lifeguard stations, although these are only manned during the summer months.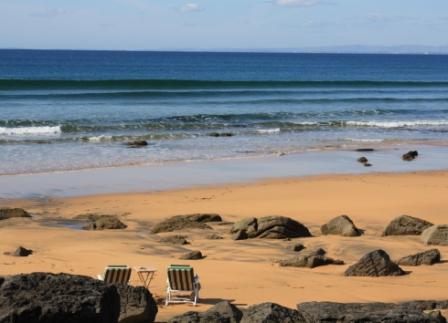 Fanore Beach (from the Irish Fainne an Oir, meaning Ring of Gold in County Clare
irelands best beaches
And while there are literally dozens of beaches in Ireland, the following is my (geographically spread short) list of just ten, with a few extras thrown in for good measure! As always, ask locally for recommendations but don't be surprised if you get a guarded answer, as sometimes we just want to keep the best ones to ourselves.....

Irelands Best Beaches are....
1 Bettystown County Meath miles of safe sandy beach, and where the Tara Brooch was discovered in a sandbank. Hotels, shops, cafés, golf course and tennis courts. The only approved beach in Europe for horse racing, there is a special event held each September which is very popular with the locals.
2 Skerries originally a small fishing village, great safe beach on the South Strand with an island with a Martello tower that you can walk out to at low tide but be very careful the tide turns quickly and you could get cut off. The Rockabill lighthouse is off out in the distance, very pretty harbour with great pubs and restaurants.
3 Dollymount strand, a traditional favourite with Dubliners and the Brent Geese, who fly in from Canada to spend the winter there. It is backed by very pretty St Annes Park, if you get tired of sand in your sandwiches. And just up the road is Howth, a really lovely village with a large fishing harbour and marina, lots of great seafood restaurants
4 Brittas Bay County Wicklow is very popular beach in the summertime, though you can always fine a nice private spot for yourself up in the sand dunes. Daily rate €4 for car parking, toilet facilities. Wicklow is known as the garden of Ireland so there are plenty of nice scenic drives inland to enjoy in this area.
5 Baginbun Head County Wexford or the Sunny South East as it is known in Ireland, for reputedly having the most sunny days in Ireland. Happy childhood memories of this beach, cooking sausages, skewered with drift wood sticks, over a bonfire, while holidaying in Fethard-on-Sea. Visit Hook Head Lighthouse and Tintern Abbey close by.
Further West is the Copper Coast drive in Waterford which has many beautiful small bays and white sandy beaches. Ditto magnificent West Cork , Sherkin Island (you have to see Cow Strand) and on out to Mizen Head and Barley Cove with a white sandy beach as soft as sugar.
And while I possibly should have included any and all of the beaches on the Ring of Kerry including Glenbeigh and Derrynane, you will easily find them for yourselves.
6 Inch Strand Dingle, County Kerry if you fancy yourself as 'Ryans Daughter' find yourself a Robert Mitchum lookalike and get swept away on this windy beach. Coumceenole on the Slea Head drive is another legend, Clogher also. Or go over the Connor Pass to Kilcummin beach, another one of Irelands best beaches with a stunning backdrop of the Brandon Mountains.
7 Fanore County Clare, from Fáinne an Óir (Irish for ring of gold) aptly describes this small, yet exquisite beach with gorgeous golden sand. Great Atlantic breakers, so a surfing and kite flying hotspot. Other noteworthy beaches in Clare, Kilkee, Spanish Point and Lahinch.
Gurteen and Dog's Bay lie back to back at Roundstone, in County Galway. They are both smashing beaches but tend to get a little crowded in the summertime. A better option might be Coral Strand (literally a coral beach) or Glashlawn where the movie Tristan and Isolde was filmed.
8 Thallabawn Killadoon, County Mayo (Irish for Silver Strand) possibly the windiest and most beautiful you will encounter in Ireland, but not the only Silverstrand by a long mile that you will come across in Ireland, there are loads of them along the Western seaboard, again just take your pick.....
9 Ballymastocker Bay on the Fanad Pennisula, County Donegal, dare I say it? yet another breathtaking beach, you will most likely have all to yourself, apart from the cows? well worth going the (long) distance.....
Also noteworthy in Donegal, magnificent Kennigoe Bay on the Inishowen Peninsula and Magheroarty, a spectacular crescent shaped beach where the ferry leaves for Tory Island. Or Malin Beg pictured above, know locally as the '100 steps beach' aftern the stairs down to it, a classic horseshoe bay with crystal clear warm water.
10 Benone Strand a seemingly endless (7 mile) stretch of beach beneath Binevenagh Head and the famous Mussendun Temple part of the Downhill Demesne between Derry & Coleraine in Northern Ireland. Another fantastic beach in the area is White Rocks with its limestone cliffs, caves and arches stretching from Portrush to Dunluce Castle.
Irelands Best Beaches with Blue Flag status