Guided Tours of Ireland's Hidden Gems - 2020 May & June Tours cancelled and rescheduled for 2021 see details below. September still on but likely to be rescheduled also if Covid 19 crisis and travel bans continue, Susan.
Ireland Gardens 
Ireland gardens are mainly open in the summertime, although Altamont and Caherbridge open early in February to show off their extensive collections of snowdrops and spring flowering bulbs. Ireland is blessed with a mild, moist climate and zero atmospheric pollution which is paradise for plants and in some cases like Garinish Island, Malahide Castle and Derreen, balmy micro climates, which allows tropical species to flourish. Another strange anomaly is the Burren in County Clare, a limestone plateau of approximately 365 square kms which is carpeted with Alpine flowers, including gentians, edelweiss and orchids in early summer which don't ordinarily grow at low altitudes. The Botanic Gardens in Dublin is open all year round and has had a major revamp with restaurant facilities, an exhibition centre and study hub that runs courses for children and adults.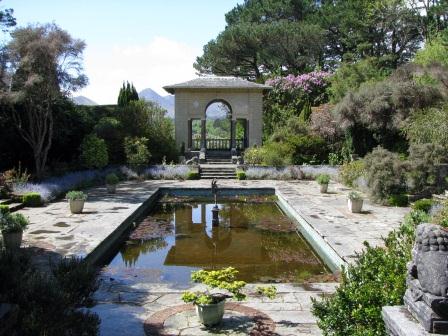 Ireland gardens range from small, immaculately crafted and maintained ones like Helen Dillon's and Angela Jupe's  to large country estates like Lismore and Tullynally with exquisite parklands, harping back to a time when labour was cheap and their owners were able to travel the world in search of exotic specimens. Or, use them as playgrounds for notorious clubs such as Mount Stewart with its quirky, mythical, animal sculptures. We have fantastic, contemporary examples too, such as the  Sky Crater which was designed by the American sculptor, James Turrell and Brigit's Garden with a seasonal theme inspired by pagan festivals and Celtic origins. The following is a list of my Top 10 favourites but there are many, many more including private ones that open to the public in aid of various charities throughout the summer, so do check locally for details. 
The 10 Best Gardens in Ireland are….
1   Bellefield, Shinrone, County Offaly 
2   Brigit's Garden, Rosscahill, County Galway  
3   Caher Bridge Gardens, Fanore, County Clare  
4   Derreen Gardens, Lauragh, County Kerry 
5   Garinish Island, Illnaculín, Glengarrif, County Cork  
6   Helen Dillion's Garden, Ranelagh, Dublin 6
7   Lismore Castle, Lismore, County Waterford
8   Mount Stewart, Newtownards, County Down
9   Powerscourt, Enniskerry, County Wicklow
10 Skygarden, Liss Ard, Skibbereen, County Cork
For more Ireland gardens please click here.
View Ireland's Hidden Gem - Gardens in a larger map