Lismore Castle Gardens
Lismore Castle Gardens are exactly how I imagined my storybook garden to be, complete with a fairytale castle and Prince Charming thrown in for good measure! Where I could wile away endless sunny afternoons in a floaty dress, playing Titania in a Midsummer's Night Dream. Or take afternoon tea in the shade of a gnarled old apple tree having painted yet another perfect botanical watercolour. Neatly trimmed box hedges barely contain the flower filled borders with not a dead plant, bald spot or a weed to be seen anywhere. Thinking an invisible team of gardeners must work through the night to maintain such perfection, I smiled in lazy contentment at the line of wheelbarrows neatly parked outside the greenhouses and potting sheds. Having long since given up the struggle to keep up with Sissinghurst, I am perfectly happy to indulge my green fingered fantasies in wonderful gardens like this. Seeing a delicate plant I had struggled with for years, Clematis Tangutica, a climber with waxy lantern shaped yellow bells, running riot up the sunny, sheltered castle walls was confirmation if ever it was needed to leave it to the experts.....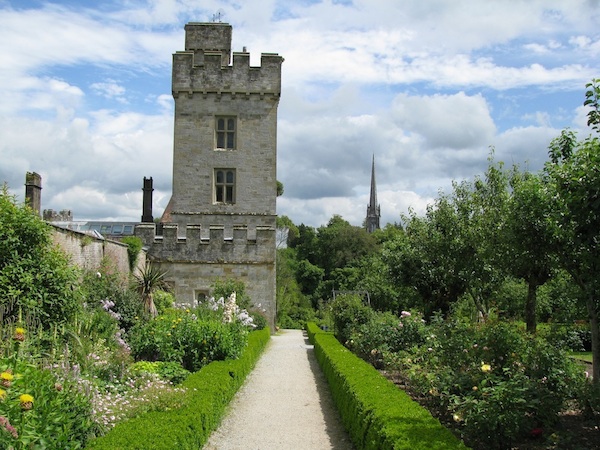 Speaking of which, it was Helen Dillon, one of Ireland's leading garden designers who had recommended these gardens to me, saying it was her absolute favourite. Unusually the entrance to the upper gardens laid out in the 17th century are via a fortified entrance tower and bridge which lead to a series of tiered gardens each more beautiful than the last with artfully placed sculptures and beautifully framed views of the castle and the church steeples beyond. The lower gardens are more relaxed with mixed woodland, spring flowering bulbs and a riot of flowering azaleas and rhododendrons in late Spring. Lismore Castle, which is closed to the public belongs to the Duke of Devonshire, who also owns Chatsworth House in England, although the family spend a lot of time here. Most recently the Duke gave a talk on the art collections in both properties which was held in the medieval great hall at the castle. Tickets sold out in minutes with people coming from all over Ireland to attend and contrary to my expectations the Duke was surprisingly relaxed and witty advising would be collectors 'to buy what takes their fancy'. Even if like himself, his desk made from recycled materials came at a price 'that would make Chippendale blush!' A generous patron of lrish artists you can see samples of his collection as well as various temporary exhibitions at the Arts Centre, admission is included in the entrance fee to the gardens....
10 Hidden Gems near Lismore Castle.
1 Lismore Castle Arts Centre is in the newly converted for that purpose west wing of the castle. The aim being to provide an exhibition space of international standard in Waterford. 
2 Lismore Heritage Centre is where you can pick up various walking trail maps or take a guided walk of the town itself during the summer.
3 The Summer House, nice café / gallery with scrumptious cakes.
3 Lady Louisa's River side walk takes you around the town alongside the river Blackwater.
4 The Towers at Ballysaggartmore, 3 kms outside of Lismore starts at the elaborate towers and follows a trail through the woodlands nice place to take the kids or have a picnic.
5 Cappoquin is a small town just over the road with a very famous bakery Barron's which has the oldest working brick ovens in Ireland. 
6 Cappoquin House has more lovely gardens you can visit by appointment ditto Tourin which belongs to the Jameson (whiskey) dynasty heiresses.
7 Richmond House is a very lovely guesthouse with spacious rooms, wonderful food and hospitality. 
8 Dromana Hindu bridge a short drive from the above was constructed to welcome back the newly weds to Dromana House in 1830, it's quite something and not what you would expect to find in Ireland at all.
9 A short drive a bit further on is the seaside town of Dungarvan with its own castle that you can visit for free.
10 Or visit Paul Flynn's famous Tannery Restaurant for sunday lunch (legendary) or dinner.