Helen Dillon Garden Ranelagh
Helen Dillon's garden at No 45 Ranelagh truly is a hidden gem right in the heart of Dublin. Helen herself is a great plantswoman and well known broadcaster and author of several gardening books. She is a no-nonsense, straight-talking Scotswoman, who does not believe in molly-coddling plants (having learned the hard way herself) if a plant is not doing well it gets replaced. Which is a good policy where space is an issue and every square inch has to earn its keep. She even ripped up her labour intensive lawn and replaced them with a long pond flanked by two glorious herbaceous borders on either side.....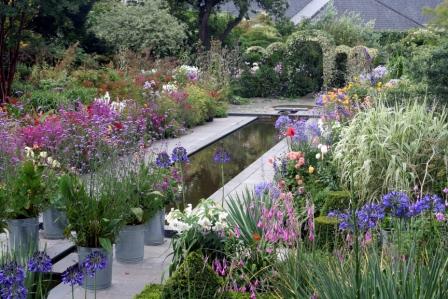 Her planting schemes can be outrageously fiery like herself (she's great fun and enormously helpful) or quite and demure like the compost bed languishing under a sprinkling of rose petals. This garden, though small is a delight because it all seems so doable. A real townhouse albeit a fabulous one the gardens front and back are inspirational and easily copied in small gardens.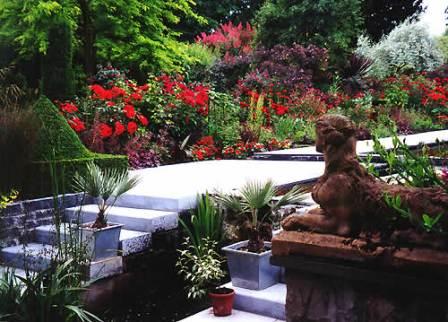 Helen Dillon Garden is open afternoons in March (glorious spring bulbs) and July and August (riots of colour) and sunday afternoons or by appointment at other times when Helen herself is usually around to give advice. Admission is €5 and there are often rare and coveted plants for sale!
10 Hidden Gems near Helen Dillion Garden
1 The first ever hot air balloon flight in Ireland by Sir Richard Crosbie took off (and landed safely in Clontarf) from Ranelagh gardens on January 19th in 1785.
2 Ranelagh village, a short walk is very nice with plenty of restaurants and coffee shops.
3 Donnybrook is on the road parallel to Sandford Road and another nice place to stroll.
4 Herbert Park is also within walking distance (5 mins) and is a nice quiet city oasis.
5 Roly's Bistro is on the corner there in Ballsbridge and a very nice place for lunch or dinner.
6 Just down the road is the Royal Dublin Society where events like the Horse Show are held.
7 Airfield House which used to belong to the Overend sisters who drove around in a Roll's Royce (the only one in Dundrum at the time) had just re-opened following major investment and refurbishment.
8 Dundrum Shopping Centre is legendary with all the big names including Harvey Nichol's from London, great restaurant plaza as well which includes a Jamie Oliver concession and my favourite Indian Andana.
9 Enniskerry, County Wicklow a short drive further up the mountains this delight village featured in the movie 'Leap Year'.
10 And then you are only a stone's throw from Powerscourt Estate with its fabulous tiered gardens and Trition Pond overlooking the Sugarloaf mountain.
For more information on Helen Dillon's Garden please click here. For more Irish Gardens to visit please click here