Dublin 1916 Easter Rising 
This year in 2016 we are proudly celebrating the centenary of the Easter Rising of 1916 which led to us finally gaining our independence from England which had ruled Ireland for 800 years previous to that.  As you can imagine it was never by popular choice and there had been many failed attempts at rebellion but this time against all the odds we finally one out against the British. But it cost of course in human terms with the 14 leaders being coldly executed at dawn above in Kilmainham Gaol not to mention civilians caught in the crossfire which included many children all of which are remembered throughout various sites across the city today.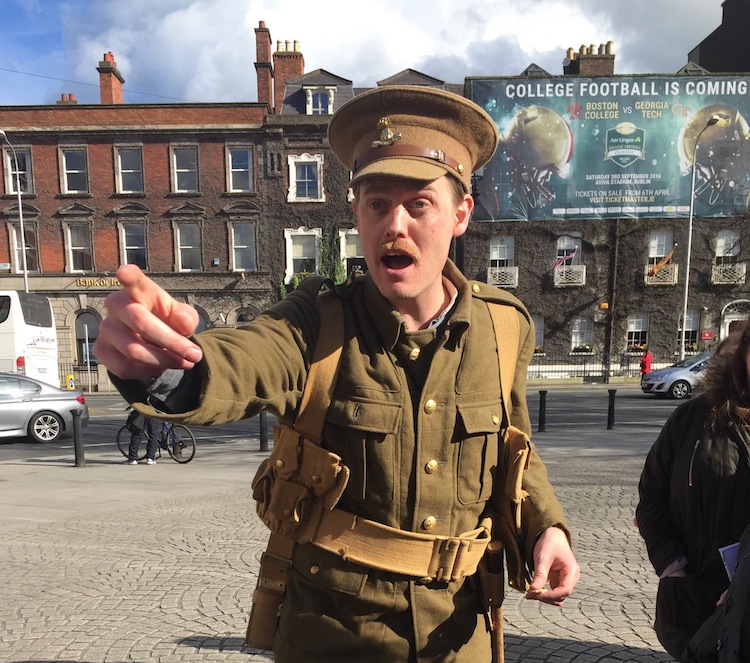 With the advent of technology more information is becoming available online re all the related events which were still hazy back in 1966 at the 50th anniversary while the 75th anniversary was a non event. But this year has already seen a huge tide of change with magnificent media coverage and multiple events and exhibitions to interest every age group and political persuasion. I visited most of those sites Easter week and was amazed and delighted about the amount of families that were at each venue, many like the GPO and at Collin's Barracks had huge queues with parents obviously keen to educate their children re those life changing events of 100 years ago which led to them having the freedom, independence and quality of life that they do today. The following are my Top 10 picks (in no particular order) of the exhibitions, events and experiences that are taking place all this year to honour the events of the Easter Rising that changed the course of Irish history for the better forever.
Top 10 - 1916 Easter Rising Commemorations
1 Dublin Bus Tour - Beyond the Barricades tour with costumed actors reliving the events of the Easter Rising 1916.
2 Collin's Barracks - 1916 exhibition in the Riding Stables with the restored yacht, the Asgard, previously owned by Erskine Childers that was used for gun running next door.
3 Kilmainham Gaol - where the rebel leaders were court martial-ed and shot in days following the Easter Rising. 
4 GPO - General Post Office on O'Connell Street scene of the main action during the Easter Rising of 1916, still a working post office but with a new Witness History exhibition centre, café and shop opening out onto an inner courtyard originally used by the mail coaches that was never previously accessible to the public. 
5 Garden of Remembrance, Parnell Square where Queen Elizabeth II famously laid a wreath of reconciliation to the Irish casualties in 2012 bridging a divide that had last centuries.
6 Abbey Theatre - see a play by one of Ireland's many celebrated playwrights in the Abbey Theatre which was founded by William Butler Yeats and Lady Gregory who led the cultural revival at the turn of the last century. Sean O'Casey's Plough and the Stars is currently being preformed to a sold-out audience before going on tour nationally and internationally.
7 Dublin Castle - always worth seeing but especially now as this was the site of first casualty of the rising, unarmed constable James O'Brien and where 5 years later Michael Collin's would famously receive the keys to Dublin Castle on behalf of the Irish people.
8 St Stephen's Green were Irish Volunteers held out against the British while being fired upon from the Shelborne Hotel (where you can enjoy a commemorative afternoon tea) before retreating to the College of Surgeons.
9 Glasnevin Cemetery where one million Dubliners are buried including Michael Collins and Daniel O'Connell and a Memorial Wall commemorating all of the dead, military and civilian, English and Irish has just been unveiled.
10 Pearse Museum go back to your roots and visit St Enda's the Irish school Padraig Pearse founded and taught in at Rathfarnham.
For more information re the Easter Rising of 1916 please click here