St Stephens Green, Dublin
St Stephens Green was immortalised in the following song "Dublin can be heaven, with coffee at eleven and a stroll through Stephen's Green" by Noel Purcell which is so true. If you are a born and bred Dubliner (like me) you grew up feeding the ducks on St Stephen's Green. Which was (and still obviously) is a treat for young children followed by a peep at the Christmas windows on Grafton Street, if it was that time of year. It's a beautiful park summer or winter and a great place to sit on a bench, have a coffee or a picnic and people watch. Or take a stroll around the 22 acres of enclosed flowerbeds and greenery with only the tops of the surrounding Georgian townhouses visible above the trees. Many of these elegant buildings are hotels such as the Shelborne, posh restaurants Thorntons and Restaurant 41, museums Newman House or schools, like the Loreto, a fee paying girls school.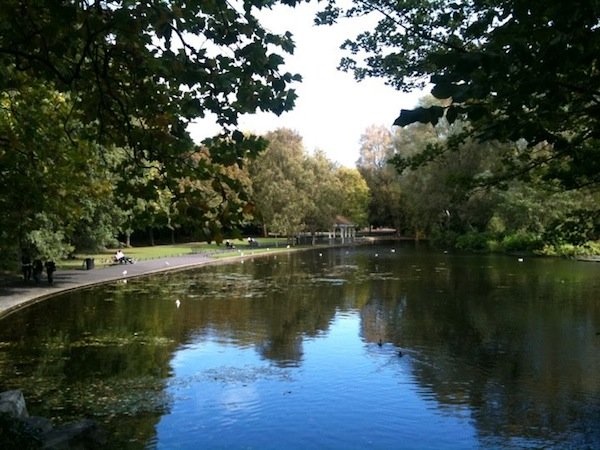 But St Stephen's Green belongs to Dubliners and we are rightly proud and happy to share it with you. You will find it at the bottom of Grafton Street, Dublin's most prestigious shopping area, go through the Fusiliers Arch, erected in memory of the Dublin Fusiliers who fought in the Boer War and you are there. Other notable features are the Henry Moore sculpture in the Yeat's Memorial Garden and the band stand where we often sat on the grass and listened to the Garda Brass Band playing during the summer. Nowadays you are just as likely to see yoga or tai-chi being practised here and it usually features some costumed action on Bloomsday on the 16th of June in the form of impromptu readings from 'Ulysses' James Joyce's famous novel about Dublin where all of the events take place on the one day. 
Keep your eye out too this year 2016 for costumed soldiers re-enacting the events of the Easter rising in 1916. The Irish Citizen Army were entrenched here while being shot at by the British from the Shelborne Hotel before retreating to the College of Surgeons. Famously (and only in Ireland) there was a ceasefire each day at lunchtime so that park keeper James Kearney could feed the ducks, you wouldn't believe now would you, only I told you so.....
10 Hidden Gems near St Stephen's Green
1 Shelborne Hotel you can enjoy a Commemorative Afternoon Tea in the Lord Mayor's Lounge at this iconic hotel overlooking St Stephen's Green.
2 Or go around the corner to the Merrion Hotel for an Art Afternoon Tea with pastries that mimic the works of art on the walls there and in the National Art Gallery. 
3 St Stephen's Green shopping centre, designed to look like the Gaiety Theatre opposite, nice tiered glass architecture, if shopping is not your thing?
4 The Gaiety Theatre on South King Street, I have great memories of this old fashioned theatre. My Aunts used to take my sister and I to the "panto" pantomime every Christmas if we were good? Oh yes, we were....
5 Grafton Street flowersellers always very pretty displays, good chat and an opportunity for a little romance, don't you think?
6 There are two great writers pubs just off Grafton Street on Duke Street, The Bailey beloved of Oliver St John Gogarty and Charles Stewart Parnell who had his own smoking room upstairs and Davy Byrne's across the road which was James Joyce's preferred haunt.
7 Brown Thomas Department Store for the serious shoppers among you, all the best national and international labels, darling....
8 Or cut through to the Powerscourt Townhouse behind which specifically focuses on Irish designers. An elegant, quiet-ish space to shop and relax in....
9 Ditto the Westbury Hotel, where you can also take afternoon tea upstairs in the gallery overlooking the coming and goings below on Grafton Street.
10 Or if you fancy a pint of plain instead head over to the   International Bar on Exchequer St which is much more down to earth with a nice solid counter and a genuine Victorian interior or you could try the Stag's Head just around the corner in Dame Court another nice authentic Dublin pub.
For information about St Stephens Green please click here.