Trim Castle
Trim castle is a really cool castle and without doubt my favourite! It has everything you need to make believe you are a dashing knight, fierce warlord, hairy tartan-clad chieftain, or even a comely maiden...whatever? Fantastic location in the heart of the Royal County of Meath it is a handy drive from Dublin and would make a great day out for children of all ages. It truly is the stuff of fantasy, which obviously enticed the location scouts on the lookout for somewhere to film the movie 'Braveheart' which starred Mel Gibson and thankfully put Trim on the map worldwide. Although they did have to make a few alterations
Before ?

And After ?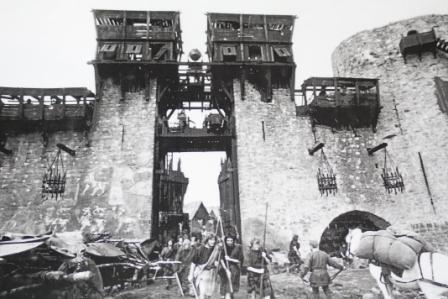 But, in fairness they had a good solid castle to start with. Actually, it is the largest Anglo-Norman castle in Ireland, which was started in 1172 by Hugh de Lacy and took 30 years to build. It is now owned and managed by the Office of Public Works. Access to the castle itself is by guided tour only because it is dangerous! Suspended walkways, connecting the various spaces, lead up to the battlements which are some 80ft off the ground. So, it is not for the faint hearted, mind you the views topside are fantastic, you can see as far as the Hill of Slane and Tara. For the vertically challenged, you can take a walk around the perimeter walls and check out the Barbican Gate or have a picnic in the castle grounds. Kids of all ages will absolutely love it....
By the way, they sometimes screen 'Brave Heart' directly onto the castle walls during the summer, so keep your eyes open for that particular treat.
10 Hidden Gems near Trim Castle ....
1 Trim town itself is nice to look around, they are big hot air balloon enthusiasts and have a festival each year in early summer.
2 Trim Castle Hotel, good tip, park here instead of at the castle, that car park is always crowded, you can return after your visit to the castle for refreshments and a browse in the excellent Kilkenny Gift Shop.
3 Bective Abbey is only over the road and well worth a visit, practically intact cloisters and churches. Plus it's free and on the way to the Hill of Tara.
4 Hill of Tara ancient seat of the High Kings of Ireland similar to but bigger than Stonehenge in its day.
5 Kells, head up the M3 motorway to see where the Book of Kells was hidden (it was actually written in Iona in Scotland) lovely, old market town.
6 Heritage Centre, in the former Court House, call in for details of the following and to see a replica of the Book of Kells. Kells most famous high cross, the Market Cross stands outside.
7 Headfort Arms Hotel, good family run hotel that has been in the hospitality business forever, they also have a replica of the Book of Kells on dispay in the lobby.
8 St Columba's Church & Round Tower, where you will see the four other stone high crosses of Kells, all very intricately carved with biblical scenes.
9 St Colmcille's House can be visited by appointment, ask in Heritage Centre for directions, also St Colmcilles Well whose pattern day is the 9th of June(the anniversary of the Saints death in AD 597).
10 The Spire of Lloyd is Irelands only inland lighthouse built by the first Earl of Bective in memory of his father, great views of the surrounding 5 counties from the top.
For opening times re Trim Castle please click here.