Guided Tours of Ireland's Hidden Gems - 2020 May & June Tours cancelled and rescheduled for 2021 see details below. September still on but likely to be rescheduled also if Covid 19 crisis and travel bans continue, Susan.
Ballynahinch Castle - Connemara
A stay at Ballynahinch Castle is like happening upon a finely blended Irish whiskey. Sixty six years in the making and mixing of history and hospitality has resulted in damn near perfection. Beautifully situated on the Owenmore river in the heart of Connemara, this former fishing and shooting lodge which once belonged to an Indian prince is completely authentic and unspoiled. Beloved of generations of repeat visitors (many from just down the road in Galway) who know a good thing when they find it, it's the perfect place for lunch, in the Fisherman's Bar or a romantic break in one of the Riverside suites with four poster beds. Apart from toasting your feet in front of one of the many roaring log fires there is plenty to do and see at Ballynahinch Castle. True to its origins, visitors come from all over the world to fly fish on one of the 8 beats along the river or shoot game in the 33,000 acres of mixed woodland, set against the stunning backdrop of the Twelve Bens mountains. Indeed game figures often on the menu, with delicious pheasant, wrapped in pastry, melt in the mouth venison, fresh salmon of course, scallops and lobster from the coast at Roundstone, just a few miles away.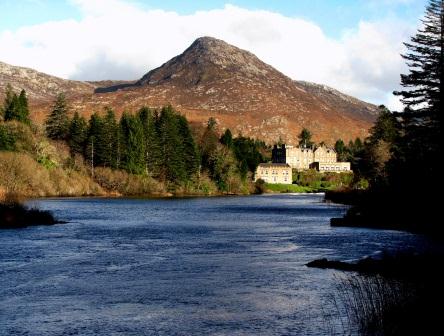 You can take a guided walk, or go off by yourself along any of the well marked trails around what was once the largest estate in Britain and Europe and learn something of the history of Ballynahinch Castle. Which stretches back some 600 hundred years to the days of the O'Flaherty who ruled Connemara, all of the land west of the Corrib river and Maam Valley as far as the sea which saw a further amalgamation of fortunes when the pirate Queen Grace O'Malley married the youngest O'Flaherty in 1546 at the age of sixteen. Eventually the land passed to the Martins, one of the tribes of Galway, Richard Martin or Humanity Dick, who founded the RSPCA father built the first house at Ballynahinch with the Berridges, a wealthy brewing family from London, adding the second storey and landscaping the grounds.
But the most popular and colourful owner was an Indian Prince Ranji, Maharajah of Nawanagar, who was a famous cricketer and friend of the Berridges. After he bought the property from them, he spent every summer at Ballynahinch arriving with his entourage of servants and friends by private train, the locals used to place fire crackers on the tracks to welcome him, to indulge his passion for fishing and partying. By all accounts he was a very generous host and well got with the locals. Ballynahinch Castle recently changed hands and is now owned by Irish businessman Denis O'Brien who has completely refurbished it but retained the former staff. Ensuring that it is still impeccably well run, with a genuine ethos of warmth and professionalism. It's a rare and beautiful thing to come across somewhere so special and I would have no hesitation in recommending a stay at Ballynahinch Castle.
Ballynahinch Castle is just one of the Top 10 Castles featured in my best selling Irish Travel Guide on Amazon.com Where To Eat, Sleep & Play in Ireland in 2014 
For more information about Ballynahinch Castle please click here
For more information about Connemara please click here.