Irelands Best Beaches
Irelands best beaches are not a secret, pick a beach any beach at all and feel free to claim it as your own. Always a favourite with children and adults whenever we have the sun to go with them? When my children were young, as well as 'treasure' hunting in castles, we used to go beach 'combing'. It was not unusual to find coconuts (from the Caribean or fishing buoys from New England)on the West Coast or lumps of coal from Wales on the East Coast. Fortunately, we have never lived far from the sea as is the case with most of Ireland it being an island, dah....? And we can proudly boast of having possibly the most spectacular coastline in Western Europe, if not the weather? There are no 'costas' in Ireland (Thank God) however on a 'pet' (unseasonably warm) day in May or September, you could be forgiven for thinking you were in Greeece should you find yourself on a deserted white sandy coral beach, lapped by turquoise waves with only a couple of cows or sheep to keep you company....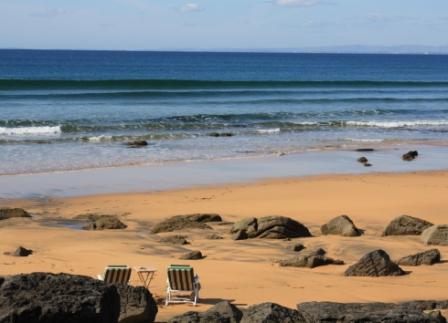 Irelands best beaches on the East coast are much busier due to their proximity to the capital, Dublin city with the added bonus of being able to buy an icecream or a coffee close by ! Whereas on the West coast the beaches can be pretty isolated, fabulous if you fancy nudey sunbathing or skinny dipping....But be warned, even with the north Atlantic drift warming the water the temperature never rises much above 6 degrees. And of course, never, ever swim alone, it can be very, very dangerous no matter how inviting it looks. There are plenty of Blue Flagged ie water quality tested beaches throughout Ireland, with lifeguard stations, but only during the summer months.
Irelands 10 Best Beaches are....
1 Bettystown County Meath miles of safe sandy beach, and where the Tara Brooch was found. Hotel, shops, cafes and a golf course. The only approved beach in Europe for horse racing, there is a special event held each September which is very popular with the locals.
2 Skerries originally a small fishing village, great safe beach, an island with a Martello tower you can walk out to at low tide but be very careful the tide turns quickly and you could get cut off. The Rockabill lighthouse is in the distance, very pretty harbour with great pubs and restaurants.
3 Dollymount strand a traditional favourite with Dubliners and the Brent Geese who fly in from Canada to spend the winter here. It is backed by very pretty St Annes Park, if you get tired of sand in your sandwiches. And just up the road is Howth, a really lovely village, harbour and marina with great seafood restaurants
4 Sandycove in Dublin. Sandycove lives up to its name, a tiny little sandy cove, close to James Joyces Tower, who wrote Ulysses, a very famous story about Dublin where all the events took place on a single day, June 16th known as Bloomsday. Celebrated annually now, people dress up and revisit the places mentioned with various readings & events along the way.
5 Brittas Bay County Wicklow is very popular beach in the summertime, though you can always fine a nice private spot for yourself up in the sand dunes. Daily rate €4 for car parking, toilet facilities. Wicklow is known as the garden of Ireland so there are plenty of nice scenic drives to enjoy in the area.
6 Baginbun Head County Wexford or the sunny south east as it is known here for reputedly having the most sunny days in Ireland. Happy childhood memories of here, cooking sausages skewered over a drift wood bonfire, while holidaying in Fethard-on-Sea. Visit Hook Head Lighthouse and Tintern Abbey close by.
7 Inch Strand Dingle, County Kerry if you fancy yourself as 'Ryans Daughter' find yourself a Robert Mitchum lookalike and get swept away on this windy beach. Or go over the Connor Pass to Kilcummin beach, another one of Irelands best beaches with a stunning backdrop of the Brandon Mountains.
8 Fanore County Clare, from Fainne an Oir, the ring of gold aptly describes this small yet exquisite beach with the goldest sand you will find any in Ireland. Great Atlantic breakers so a surfing and kite flying hotspot.
9 Thallabawn Killadoon, County Mayo Irish for Silver Strand possibly the windiest and most beautiful you will encounter in Ireland, but not the only Silverstrand you will come across there are loads of them on the West coast, feel free to claim one as your own.
10 Portsalon Fanad Pennisula, County Donegal, dare I say it yet another breathtaking beach you will most likely have all to yourself, apart from the cows? well worth going the distance.....
Irelands Best Beaches with Blue Flag status click .