The Burren, bare limestone, wildflowers...
A lifetime would be too short to fully explore the Burren, never mind a short holiday or day trip. For a start you will probably never find 'it'? Because, although 'it' covers some 360 sq kms ie nearly all of County Clare, most people end up getting lost and constantly asking for directions when in fact they are often already in 'it' or 'there'. What people seem to envisage is an actual, neat, nice little place as in 'The Burren' somewhere, complete with limestone pavements, wild flowers etc. And yes, it certainly does exist, only it is huge and everywhere! Look over any stone wall in the springtime and you will see a carpet of wild flowers laid out at your feet, including purple and white Orchids, electric blue Gentians and a whole host of other high, alpine wild flowers you wouldn't expect to find growing at almost sea level, like Edelweiss and Mountain Avens....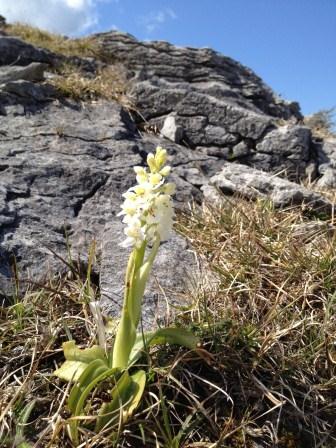 Marvel as you walk across the bare limestone pavements that were once the ocean beds of warm tropical seas millions of years ago. If you look carefully you can clearly make out the fossilised remnants of sea urchins & anemones and various other plant-life and animals. These limestone pavement got carved into the stepped shapes that we see today by the retreating glaciers that moved south over Galway Bay from Mayo at the end of the last ice age. Leaving 'erratics' solitary boulders of granite and even marble, marooned on this bare landscape. Further evidence of the force nature in folding this landscape is beautifully depicted at Mullaghmore which is part of the Burren National Park. Or you can go underground into one of the many caves in the area at Ailwee or Doolin to truly understand how erosion has moulded this magnificent landscape and is continuing to do so at the rate of the thickness of a sheet of paper each year. So there's no hurry it will be here waiting for you for another while yet...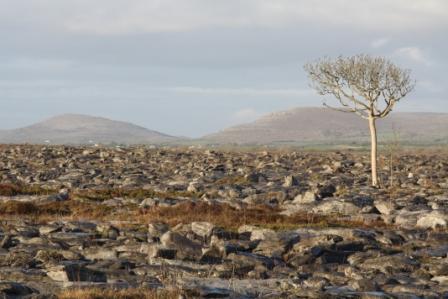 10 Other things to do and see in the Burren....
1 Cliffs of Moher scary cliffs, stunning views and an excellent state of the art, all-weather visitor centre, restaurant, shop & facilities.
2 Drive out to Blackhead, for more views, park the car at the lighthouse and climb up the mountain to the stonefort of Cathair Dhuin Irghuis.
3 Ailwee Caves & Birds of Prey Centre, guided tour of underground caves discovered by a man out walking his dog? Fly falcons or try out award winning cheeses in the farm shop.
4 Ballyvaughan village pretty thatched cottages, nice crafts shops and restaurants, farmers market saturdays and craft fair on sundays throughout the summer with the Burren in Bloom festival each May.
5 Bishopsquarter beach, names after the Bishops who had the rights to 'the finest oysters in Dooneen Bay' some 600 years ago. A great place for a walk, picnic, or kiteflying with safe swimming and powdery sand dunes to play in.
6 Ballyalban Fairy Fort on the road up to Poulnabrone just opposite the left hand turn into the Ailwee Caves. Easy access over a wooden stile into a nice big ring fort with mature trees.
7 The Flaggyshore, described by our own celebrated poet Seamus Heaney as capable of 'blowing the heart wide open' is a tarred road used as a walk, encircling the coast at New Quay.
8 Corcomroe Abbey, Bellharbour. Ruined 600 year old Cistercian abbey and graveyard, site of the wonderful Easter dawn masses of yesteryear. A revered and holy place, the road up to it cuts through a ringfort.
9 Linanne's Lobster BarNew Quay very nice pub on the harbour with a great view, good pints and seafood (under new management) so ignore old tripadvisor comments.
10 Kinvara another nice harbour village and home to the Cuckoo Fleadh (May) & Crinniú na mBád festival (Aug). Medieval banquets held in Dunguaire Castle. To see another spectacular landscape in the Burren click here.