Guided Tours of Ireland's Hidden Gems - 2020 May & June Tours cancelled and rescheduled for 2021 see details below. September still on but likely to be rescheduled also if Covid 19 crisis and travel bans continue, Susan.
Youghal, County Cork
Youghal truly is one of Ireland's Hidden Gems and a place I only discovered myself a couple of years ago, thanks to Gay in Aherne's Seafood Restaurant and Catherine in the Youghal Tourist Office. There is so much history in this delightful seaside town and so many different Things to Do and See that I have been back twice already and will definitely visit again. Youghal can trace its origins back to Viking times followed by the Normans, Sir Walter Raleigh and one man in particular Richard Boyle who transformed it into one of the most important trading ports in Ireland during medieval times. The original Water Gate through which the infamous Oliver Cromwell, his soldiers and horses passed through is still there, as well as most of the medieval walls which protected the settlement and its inhabitants for over 800 years. Within these walls are the remnants of medieval buildings and beautiful merchants houses, set at curious angles, so that each has a view of the sea. There is a perfect Queen Anne house called the Red House and an imposing clock tower that was one of twelve medieval gates that protected the town. Youghal hit the big time back in 1954 when the Hollywood descended on this quiet backwater to make the movie 'Moby Dick' which starred Gregory Peck.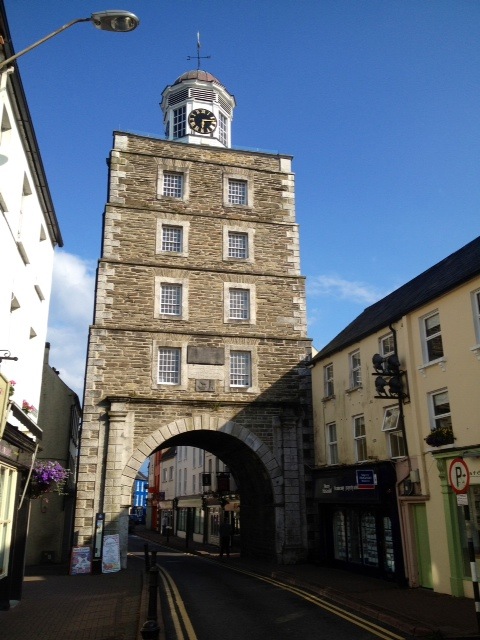 But probably Youghal's most famous resident was Sir Walter Raleigh who lived there for 17 years. He was gifted a house and 40,000 acres of Ireland's finest land by Queen Elizabeth and changed the course of Irish history by introducing the potato and tobacco to Ireland. He lived in a house, called Myrtle Grove (which is the only original Elizabethan town house left in Ireland) where Edmund Spencer is believed to have written the 'Faerie Queen'. The house is still there, but is privately owned, but hopefully it will be opened to the public one day in the future as it would be fascinating to see it. You can take a peek at it over the wall of St Mary's Collegiate church yard if you like, which is probably the most interesting church in Ireland having been in continuous use for over 1300 years. The oak roof is original and shaped liked the hull of an upturned boat, while the organ was bought on eBay a couple of years back (only in Ireland as they say) To cut a very long story short Richard Boyle bought Sir Walter Raleigh's land from him when he fell out of favour with Queen Elizabeth and became bankrupt. The self titled Earl of Cork went on to become the richest man in Ireland at the time, installing himself in Lismore Castle and owning all the land and mines from there to the port of Youghal, eventually shuffling off his mortal coil in 1643. The Boyle memorial chapel contains the elaborate tomb of the Earl of Cork, his two wives and 15 children as well as the tombs of the Fitzgeralds and poignantly the grave crosses of local WW1 casualties fashioned ironically from wooden ammunition boxes.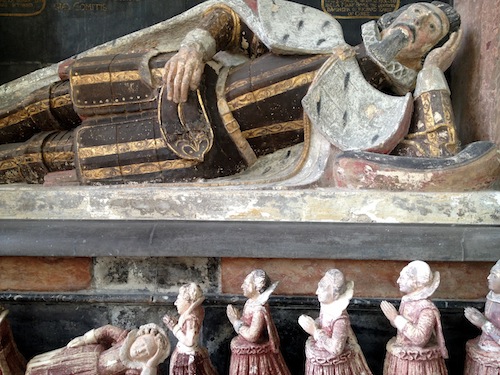 You could spend hours here or check out some of the other Hidden Gems in Youghal....
1 Visit Youghal Tourist Office & Heritage Centre in the stone building down on the harbour, beside the cool umbrellas, for information about the area and what's on locally that week.
2 Take an historic guided walking tour of the town or pick up a self guided heritage map from the tourist office above.
3 Or go on a cruise up the Black Water River with Tony Gallagher, an expert local historian who will tell you all about the fabulous mansions, monasteries and castles that you will see from the river.
4 Have yourself a delicious lunch in Aherne's Seafood Bar and Restaurant. Open all day for food, it has an excellent tasting menu with wine parings at night, featuring the freshest fish from nearby Ballycotton and locally sourced meat and vegetables.
5 Take the sea air with a stroll along the Victorian promenade as far as the lighthouse which was designed by George Halpin, a descendent of Robert Louis Stephenson who wrote the book "Treasure Island".
6 Wake up with the sound of the waves lapping the shore at the Walter Raleigh Hotel which has been renovated and re-opened as a very nice boutique hotel which is very good value with an average price of just €120 per room per night for bed and breakfast for two people. 
7 Visit St Mary's Collegiate Church and meet Norman the cat who guards the Norman Tower on the same site. 
8 Duck into the Nook Bar for a pint or an Irish coffee with music and Irish dancing from the nearby Ring Gaeltacht at the weekends.
9 Walk along the top of the medieval walls and down through the beautifully restored Collegiate Gardens, keep an eye out for the coffin shaped hole where poor people where placed for burial.
10 Visit Paddy Linehan's Pub, better known as Moby Dick's as this is where the cast and crew of the famous movie went at night to discuss the day's filming over a few pints with the bartender. Guess what? they are still at it....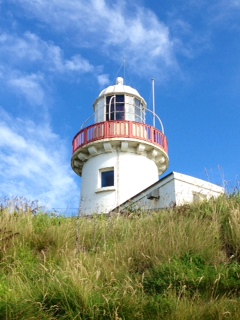 For more information about visiting Youghal please click here.
For more information about Cork City please click here.
Or wild, beautiful and unspoiled West Cork.