Ardagh Chalice
The Ardagh Chalice, the Tara Brooch and St Patricks Bell are some of Irelands most treasured gems. They are Irish symbols of our rich artistic heritage dating back 1000's of years. Many of which might have been lost forever had it not been for the Viking invaders who pillaged monasteries throughout the country in search of these holy items they knew to be forged of precious metals and often studded with gems. It seems that in their haste to escape the monks might have hidden certain objects or simply dropped them in passing. The recently discovered Fadden Mor Psalter (missal) in a bog in the midlans caused great excitement. Despite its poor condition, traces of beautifully illuminated psalms on vellum, bound in leather could still be made out some 1500 years later ....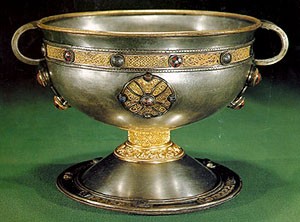 The thing is, anything found on Irish soil that does not have an obvious owner is deemed to be the property of the state. However a finders fee is normally paid as was the case in the Derrynaflan hoard. This priceless hoard containing an 8th century chalice, strainer, patten and stand in a bronze basin were found by a father and son in 1980. The objects had been hurriedly buried less then 18" underground within 20 yards of the ruined church on Derrynaflan Island in County Tipperary and is now on display in the National Museum. Which luckily has recovered other precious objects including the Tullylough Cross that was stolen from a Crannog in Roscommon to be sold on the black market before eventually being tracked down to the Getty Museum in California who wanted a couple of million to sell it back to us. Obviously some sort of deal was done because it is now back in safe Irish hands at the National Museum.
So I would urge to visit the National Museum if you have an interest in the sacred places of Ireland. Here you will see the treasures that once belonged in these places, hidden gems that have thankfully come to light for all to enjoy.
Please note the museum is closed mondays and admission is FREE
10 other things to do and see in the area are...
1 Take a stroll in Merrion Square Park.
2 Peer through the gates of Governments Buildings at Leinster House.
3 Visit the Esb refurbishment of a Georgian House, No 29.
4 Browse through Irish literature at Hodges Figgis Bookshop in Dawsons St.(sadly Waterstones opposite has just closed)
5 Visit Trinity College and the Book of Kells.
6 Buy your Dad a pipe in the famous Petersons Shop.
7 Have your picture taken with the statue of Molly Malone or the Tart with the Cart as we call her.
8 Shop in Grafton Street, drool at the windows of Brown Thomas
9 Have coffee and sticky buns in Bewleys.
10 Feed the ducks in St Stephens Green.
For more information on the Ardagh Chalice please click here