Butlers Chocolate Experience
Butlers Chocolate Experience is one of my favourite visitor attraction in Ireland right now, Hello? what is not to like about a tour that includes all the chocolate that you can eat. They have to be commended for their innovation (a glass walkway tour over the factory floor) which is an amazing blend of information and fun (hands on chocolate painting workshop) and value for money which includes your own personal chocolate bear to take home. Only after the tour (a behind the scenes glimpse of the chocolate making process) did it occur to me that the same fastidiousness that goes into producing and packaging their chocolate products, is what had been applied to the visitor experience, which is a sure fire recipe for success, if ever there was one.
The tour starts downstairs in the latest Butlers Chocolate Café been added to the chain of 15 (another success story) where there is a friendly meet and greet with the tour guide. Tours are limited and have to be booked in advance, which continues upstairs where the whole concept of chocolate making from the pod to production is introduced, discussed and most importantly tasted ! This is an eye opening and mouth watering experience as you peer down into the vats of molten chocolate tempering away, ready to be poured into moulds, which disappear into a conveyor belt one end, only to re-appear as if by magic, all perfectly formed and decorated at the other.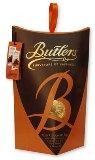 Being the month that was in it, when I visited, Easter eggs were twirling around on their moulds, while mini-eggs wrapped in shiny foil grow into small mountains before our eyes. The pristine new eggs and trays of different chocolates arrive at the packing area where they are arranged into the Butlers signature boxes or wrapped in colour paper and foil and hand-tied (of course) with ribbons. What I had not expected was the surge of pride for an Irish product and a new respect for the people producing it, which will undoubtedly influence any future purchases.
Finally it was Willy Wonka time for the visitors, suitably geared up in white coats and hairnets we were led into a mini-factory for a close up chocolate moulding demonstration and more tastings (orange pralines this time) and the opportunity of decorating our own bear. Which might seem a tad childish? but apparently not, according to the 18 year old beside me who was loving every minute of it as much as the 4 year old opposite him. Thoughtful additions were the water dispenser (enough of chocolate already, thank you) smart wrapping paper and ribbon in true Butlers style with a personal certificate each to complete this 10 out of 10 experience.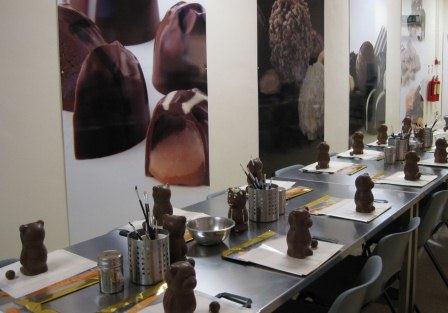 Butlers Chocolate Experience, Clonshaugh Business Park, Dublin 17.
Phone 01-6710599
Open monday-friday
Admission €13.50 per person €45 for a family of 2 adults+2children
(includes the complete tour and chocolate painting experience with your own bear to take home)
Please note, all tours have to booked in advance and if you book online, you will get a 5% discount.
Book discounted tickets to Butlers Chocolate Experience here For more Things to See and Do in Dublin please click here