Christmas in Ireland 2010
Christmas in Ireland, kind of started for us a month ago with the onset of the artic weather, when we were forced to down tools and stay indoors which is normally what we do out of choice for practically a month at Christmas anyway. Thankfully most people were already well stocked up with the Christmas goodies so there were quite a few tins of Cadburys Roses and Quality Street consumed, not being that organised myself, I even had to resort to raiding my nephews Selection Boxes!
And while it was a novelty for the first few days, and beyond picture postcard pretty, cabin fever set in quickly enough, which is fine if you are fit and able and can brave it out in the cold, but desperate for older neighbours and friends. Some people in the Slieve Bloom mountains have not been able to leave their homes for over a month now. And while we are good at looking after each other in Ireland and by nature sociable, it can be very isolating and lonely especially at this time of the year.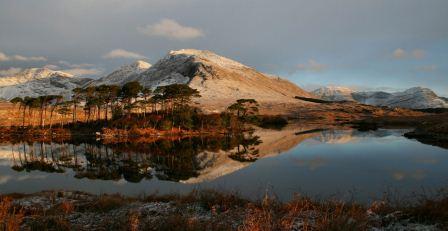 It's all about family in Ireland at Christmas time and getting home, even if you are wondering why the hell you bothered by Stephens Day? it's a lot of pressure most of us can do without. There are 1000's of people still stranded at airports here and in the UK and my heart goes out to them, there is nothing more miserable then that. Some, like my brother are making epic treks via trains, ferry and possibly even yak at this stage to get home to a high stool and a decent pint of Guinness in the company of old friends.
Which is possibly what we Irish love most at Christmas meeting up with friends, you can't go ten paces down Shop Street in Galway without running into someone you know and it will be 'Howya horse' (don't ask) 'are you coming for a quick one?' which means heading to the nearest pub and forgetting all about going home ever again! The bad weather has had a serious impact on business (could it get any worse?) with shops losing out big time, the same for hotels and restaurants with cancelled events and party nights etc.
Which might be great for our wallets and waistlines but not what we are about, we are not frugal by nature and it doesn't suit us (we might have to get used to it) for a while with the budget that we have just been landed with? But we will more than likely kick that lot (Fianna Fail) into touch in the New Year which will cheer the majority of us up mightily and give us something to look forward to! That and the longer days which started yesterday with the winter solstice. So roll on the thaw, Springtime and a change of fortune for all of us.
Nollaig Shona Dhaoibh go leir