Jamesons Irish Whiskey
I have to say and it's a personal preference, I prefer The Old Jameson Irish Whiskey Distillery as a visitor attraction to the Guinness Storehouse, for the simple reason that the tour here is guided, whereas in Guinnesses you are left pretty much to your own devices. Which can be very pleasant, especially above in the Gravity Bar with a view of the city and a nice pint of plain in your hand, but for me I want something more. I like to leave a place a little bit wiser and in Jameson's case (a little bit tipsy) having learned something new.  Properly guided tours will do that for you and at the Old Jameson Irish Whiskey Distillery it is very well done, just the right length of time and information to hold your attention, finishing up with a genuinely, convivial whiskey tasting session in the Discovery Bar.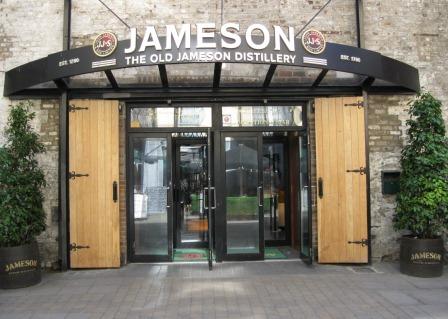 Perhaps, when you understand how something is made you appreciate it more? It is quite amazing how 3 simple ingredients, barley, water and yeast can be turned into 'uisce beatha' or the water of life as it's known. And interesting too, how each of the processes, whether it was the malting of the barley, the marrying of the whiskey ib casks or the vatting into bottles, shaped the lives and social history of this small and unique area of Dublin. Surely they could never have imagined Jamesons Irish whiskey becoming the global phenomenon that it is today with the infamous distinction of being the most shop lifted item in the USA.
Situated in an historical part of Dublin, Smithfield market is surrounded by cobbled streets and nowadays luxury apartments. The original building is lovely with a theatre, bar, shop and restaurant, which seems to be very popular with legal people (which makes for some interesting people watching at lunchtime) with the Four Courts nearby...
10 Other Things To Do and See in the area….
1 Smithfield Market an eclectic mix (how else can you say it nicely) of the old, a monthly horse fair and the new, modern apartments.
2 The Four Courts elegant complex of Georgian buildings where a lot of Irish legal wheeling and dealing still goes on, although the Supreme Court of Criminal Justice has moved to a new iconic building on Parkgate St.
3 St Michan's Church Church Street, used to be the highlight of school tours when we were kids, what were they thinking of? you can still visit the 'mummies' and the tomb of the crusader in the crypts below (small admission charge)
4 The Museum of Decorative Arts is housed in nearby Collins Barracks, another great free museum, the Curator's Choice is an excellent exhibition.
5 Capuchin Day Care Centre 29 Bow St, spare a thought and / or a donation for this free facility, run by the Capuchin monks for the homeless of Dublin which provides free hot meals daily for anybody that needs them.
6 Fruit & Vegetable Market admire the fine Victorian ironwork of this old market still bustling a 100 years later, it's on every morning from dawn.
7 Liffey Boardwalk take a walk along the quays on the new boardwalk which goes as far as O'Connell St bridge, the only one in Europe that is wider than it is longer!
8 Halfpenny Bridge cross over the first toll bridge in Ireland, hence the name, into the infamous Temple Bar area of Dublin.
9 Winding Stair Bookshop/Restaurant Ormond Quay stop in for a nice quiet coffee and a read, good for lunch and dinner also.
10 Cobblestone's Pub my nephew James who has recently moved into Smithfield tells me this is a very nice authentic pub that I should let my readers, know about, so don't say I didn't tell ye!
The Old Jameson Distillery, Bow St, Smithfield, Dublin 7.
Phone 01-8072355
Open 7 days a week, Luas stop close by at Smithfield.
Tour Admission Prices : Adult- €14.00 Group (of 15 persons plus) €11.00 pp Student €10.60 Seniors €9.60 Children- €7.70 Family (2 Adult/3 Children)- €40.00 with a 10% discount if you book online