5 star hotels in Ireland....
5 star hotels that tick all the boxes are rare gems indeed, often one feels cocooned away in a tourist bubble with some nameless hierarchy running the show, albeit an excellent show.... In Ireland, we like to think that our 5 star hotels offer something different? From fabulous once offs like the G Hotel in Galway, a pink & crystal confection designed by hat designer to the Queen Philip Treacy or the Ritz Carlton in Wicklow? where else would you find a location like it on the beautiful Powerscourt Estate overlooking the Sugarloaf mountain, in County Wicklow.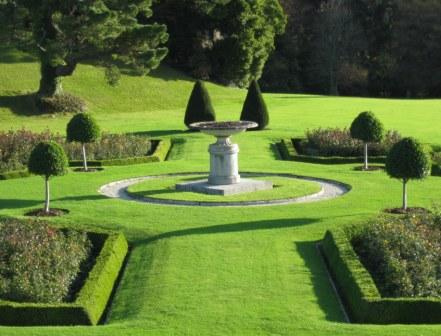 Or the Park Hotel in Kenmare, run by the famous Brennan brothers, who are legends in Irish hospitality and possibly our greatest ambassadors for tourism. Their 'Samas' spa lives up to its meaning 'well being' as do the other wonderful spas in these hotels. Huge amounts of money have been poured into creating the very best of de-stress oasis in all of Europe, like the Cloisters Spa at Muckross Park in the heart of Ireland's oldest national park at Killarney.
Or the award winning destination Monart Spa in Wexford or spectacular Inchdoney Island Hotel & Spa in Cork. All of these hotels have superb spas to compliment their already fabulous 5 star accommodation, interior design, fine food and that warmth and Irish hospitality that really makes a holiday or weekend escape in Ireland perfect.
The 10 Best 5 star/spa Hotels in Ireland are....
1 The Ritz Carlton Powerscourt, County Wicklow, in an unrivalled setting, with a luxurious Espa and Gordon Ramsey signature restaurant.
2 The Park Hotel Kenmare, County Kerry a chance to be looked after by the famous Brennan brothers what are you waiting for?
3 The Four Seasons Dublin, although internationally renowned and appreciated, this hotel is regarded by many of Ireland's top movers and shakers as a second home.
4 Muckross Park & Cloisters Spa this 5 star hotel has been given the midas touch by its celebrity owners who are absolute perfectionists.
5 Monart Destination Spa County Wexford an unique experience where you follow a path to total relaxation.
6 Inchydoney Beach Hotel & Spa County Cork miles of deserted beach and quiet calm in this heavenly oasis where all your needs will be catered for at this hotel
7 The G Hotel Galway, totally different classy Sex-in-the-City style with origami flamingoes hovering over a quiet pool.
8 Castlemartyr Hotel & Spa County Cork has to be seen to be believed? nipped and tucked to perfection (the box hedges)
9 The Merrion Dublin citys best kept secret, sartorial elegance, exquisite dining and delicious spa right in the middle of happening Dublin.
10 Aghadoe Heights Hotel Killarney well there would have to be an infinity pool with a name like that wouldnt there? and everything else you would expect in this popular 5 star hotel on the Ring of Kerry