IRISH TRADITIONAL MUSIC
Irish Traditional Music is best enjoyed informally at traditional sessions around the country in Irish pubs. A 'seisiun' or session is when a group of musicians gather together and just start playing music. This usually happens sponaneously with perhaps a couple of fiddle players being joined by someone playing a tin whistle or bodhran (hide covered drum) which can get bigger or smaller as the day or night goes on, with impromtu solo pieces in between....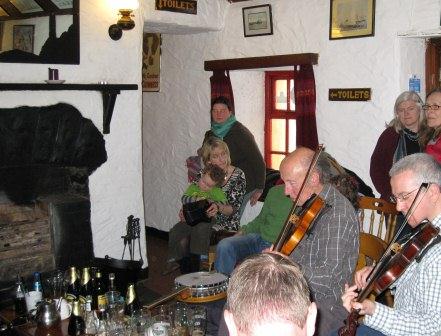 Traditional Irish Music session Monk's Pub Ballyvaughan in County Clare
Sometimes they will be joined by a 'sean nós' singer or dancers but they kind of get made up as they go along and are extremely entertaining, even if you are not into that kind of music and are just there to people watch and have a few nice pints of Guinness. Please remember to keep the chat down, cúinas (quietness) is very important and respectful of the musicians. Often too, the best seats in the house will be reserved for them, so don't sit in their space if you want blend in like a local.
Where can you find these sessions? Well they are mostly free, rarely would you expected to pay into one so please don't.... They are ofter advertised in pub windows or doorways, usually at short notice or tracked down by word of mouth or just simply follow your ear and take a chance.....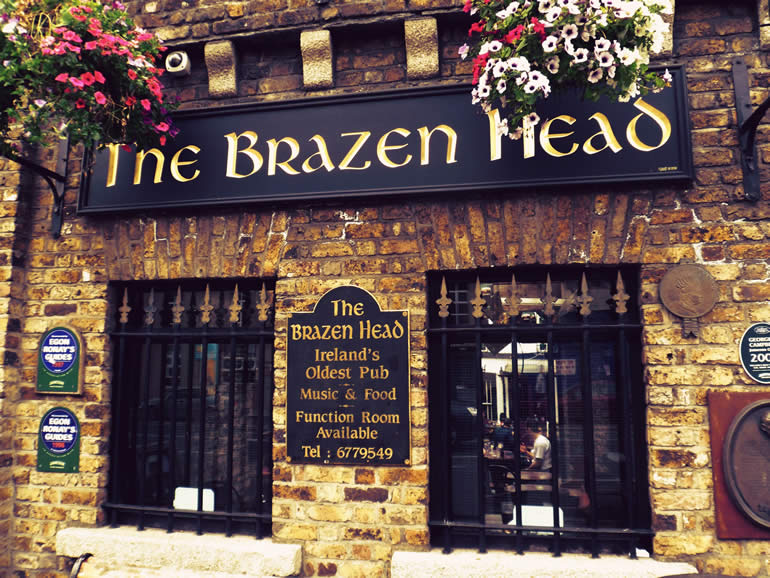 Brazen Head, Dublin, famous for Sunday afternoon traditional Irish music sessions
IRISH TRADITIONAL MUSIC VENUES
There will be plenty of Traditional Irish Music sessions all over the country during St Patrick's Day when the focus will be on all things Irish of course. But for the very best you really need to head to the West of Ireland, to where Irish Traditional Music began and explore its origins on the Islands (incidentally the islands were the first to lock down voluntarily when Covid struck, anyone who hadn't come back into the island was told to stay away until it was over to protect themselves and their elderly communities out there. Word has it that the pubs out there stayed open throughout or at least until the ran out of porter!
Irish Traditional Music is alive and well too in the Gaeltachts (Irish speaking areas of Galway, Mayo and Donegal) or down in  Clare, home to the Kilfenora Ceilí Band, where if you are very lucky you might catch Sharon Shannon or her sister Mary in Vaughan's pub playing music on a weekend... 

But there is probably no better sessions than those nightly at Matt Molloy's Pub in Westport which I take my clients to on my Guided Tours of Ireland's Hidden Gems. Matt was the principal pipe player for the Chieftains and is a modern day legend. He often appears himself with his son and a group of other talented musician is his own pub especially on weekends. But that was all pre Covid news and Irish Traditional Music  sessions have been sadly absent from our lives, hopefully they will be back in full swing this St Patrick's Day or if not definitely by the Summer of 2022.