Planning a Trip to Ireland or Scotland next year? Click on the following links for dates and details...
Guided Tours of Ireland's Hidden Gems 2023 

Guided Tours of Scotland's Hidden Gems 2023 
St Patricks Day in Ireland 
2022 will be the first year since Covid began that the St Patrick's Day Parade will be reinstated not just in Dublin but throughout Ireland where there are numerous other smaller parades. We are even getting an extra public holiday this year which will turn it into a four day event to celebrate not just St Patrick's Day but hopefully the end of Covid!
Normally St Patrick's Day is not a big deal in Ireland but this year I have a feeling it is going to be epic especially since we are hoping it will kick start tourism again for us as there is nowhere else in the world that enjoys media attention like we do on the 17th of March each year. The whole razzmatazz surrounding the event was invented by ex-patriots around the world looking for an excuse to celebrate their Irish roots on the day, not that there is anything wrong with that!
Particularly in the USA, where a huge amount of Irish people emigrated, some of them never to return again to their homeland. Thankfully their children, grandchildren and even great grand-children have been coming back in their droves ever since and hopefully this year will open the flood gates to International travel once more. 
Ireland will definitely be rolling out the green carpet for them and for our own children and families separated by Covid for almost two years, St Patrick's Day is a special day for them even if they are celebrating it on a sunny beach in Australia instead of a cosy pub in Galway.
And just to put the record straight, here in Ireland we would never actually drink green beer or dye whole rivers green as they do in Chicago. We have embraced the 'greening' of iconic buildings here and across the globe and the silly hats....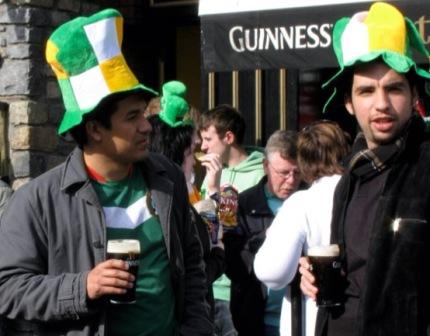 Celebrating St Patrick's Day in Dublin
St Patricks Day parades & events
Once upon a time, we simply donned our homemade St Patrick's Day badges or pinned a fistful of muddy shamrock dug from the fields, to our lapels and went out to Mass to sing Hail Glorious St Patrick.
Then, if you were lucky and lived near enough to Dublin, you might be taken to the Parade to watch the marching bands and the odd float. But now, St Patrick's Day is a huge festival with various multi-cultural and fun events for all the family and visitors alike, with an estimated 500,000 people cramming Dublin's city centre for the actual Parade on the 17th of March.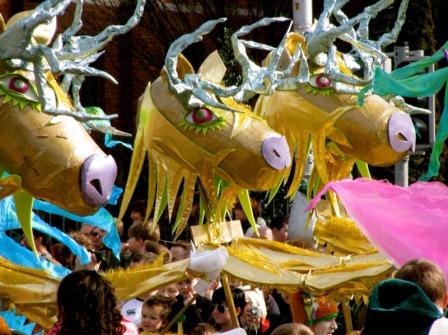 Colourful floats at the St Patrick's Day Parade in Dublin
Rural celebrations & customs
In rural Ireland or 'down the country' as we say, St Patrick's Day is much more likely to be celebrated in traditional style, especially on the islands and in the Gaeltacht (Irish speaking) areas with traditional music, sean nós singing and dancing, horse racing and GAA matches.
Although there are lots of small localised parades which are great fun  and more accessible than the larger ones in Dublin, Cork, Galway and Limerick. And while we have been criticized for drinking too much and it's true, some people do go overboard...But there's not much can be done about that, it is a free country after all and after two years of not socialising at all, I am expecting a free for all....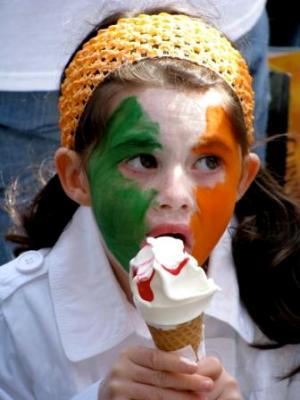 A proud Irish girl all dressed up for St Patrick's Day
And despite what you may have heard, there is a lot more to Ireland and St Patrick's Day (by the way we would never ever call it Patty's Day in Ireland) it's Paddy's Day or St Patrick's Day) than shamrocks, leprechauns and crocks of gold.....
The following pages tell you the real story behind St Patrick, his feast day on the 17th of March, and all the traditions associated with it that celebrate our culture including....

Irish Myths, Legends and customs
St Patrick the legend who drove the snakes out of Ireland...

Hill of Tara ancient seat of the High Kings of Ireland....
Fairies & Leprechauns the truth at last....
Holy Wells pagan origins, Christian cures.....
Shamrock or is it clover? how to tell the real thing....
Irish Parades their history & the story of Macnas....
Irish Dancing and the legend of Riverdance....
Traditional Irish Music and where to hear it for free....
Gaelic Sports football, hurling & camogie....
National Anthems pride of our nation....
Irish stew soda bread etc....
Guinness how to tell a good pint?
Irish Coffee what makes a real one?
Our other great national drink Tea...!
Beannachtí na Feile Pádraig – Happy St Patricks Day

For more details re Susan Byron's exclusive Guided Tours of Ireland's Hidden Gems please click here