The Stone Loft at Ballylina Lodge
A nicer couple than the Downers at Ballylina and their springer spaniel pup Roxy, you are unlikely to meet. Roderick is passionate about classic cars with an Alvis TD-21, Damlier Dart and MGB, sitting pristine and pretty in the stable garages, ready for the fine days to be spent touring the quiet back roads of the Tipperary countryside with the top down. Happy to advise on interesting places to eat en route, they have put together a selection of different itineraries which places like the Foynes Flying Boat Museum and the Burren and can even organise a scenic trip in a seaplane or hot air balloon for you...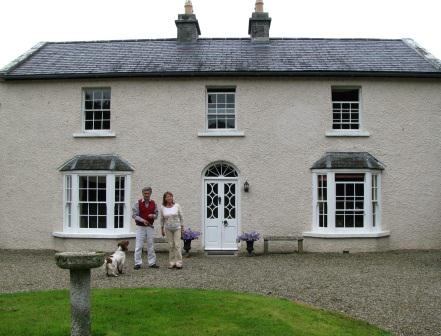 Something else they are extremely good at, is genealogy so if you have a mind to trace your roots, aka Barack putting the apostrophe back in Obama, Moneygall is just down the road. And is well worth the trip if you want to see the shiniest town in Ireland with more American flags than you will see in the USA on the 4th of July.
The Stone Loft situated above the stables is very private and luxurious with a bright spacious sittingroom leading out onto a timber deck. There is a fully equipped galley kitchen and sharp, contemporary bathroom. Two lovely bedrooms with crisp bed linen, warm woolly throws and wait for it? matching umbrellas ....
For more information on rates and availability please click here.

For more information on Irelands Hidden Places please click here