Ballyvolane House, Fermoy, Cork
Ballyvolane House is in a word 'perfect'….The writer Elizabeth Bowen said that "owning a big house in Ireland is something between a predicament and a raison d'être" which for the Green family (all four generations who live there) seems to be pleasing their guests. Everything from the small details, a welcome postcard of the bluebell woods in Spring (note to self, come back and see that) and complimentary pot of blackberry jam to take home, to the large, cavernous rooms (there are only six) with no such thing as a bad view, out over the gardens lakes or parkland dotted with noble, ancient oak trees. Ballyvolane is comfort personified, afternoon tea, with homemade chocolate cake, is served in drawingroom in front of a blazing fire in winter or outside under the magnolia trees in the summertime. Where you can relax with one of their copious, coffee table picture books of Ireland, in which Ballyvolane is featured regularly....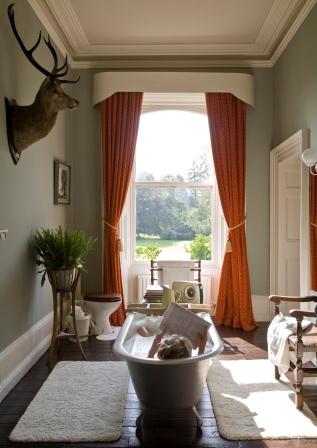 Or take a tour of the walled gardens, which provide the raw ingredients for the kitchen at Ballyvolane. Dinner at Ballyvolane is served in the dining room in true country house style about 7.30 after pre dinner drinks in the drawing room, do try their rhubarb martinis! Seasonal and fresh and totally homemade you certainly won't be disappointed.
In fact many couples are choosing to have their wedding at Ballyvolane which can cater for up to 120 guests that's a world away from the 'beef or salmon menu' and the 'take it or leave it' attitude of the more generic hotels. Brides and their families are delighted to have such a wonderful place to themselves and to know that every single detail will be perfect on this the most special day of their lives. This formula of practiced calm, generous charm and efficiency is obviously working with the house consistently full, even in the middle of a cold winter and an even colder recession. Indeed, you will find plenty to warm your heart and raise your spirits at Ballyvolane House.
Ballyvolane House is just one of Top 10 Romantic Hideaways / Downton Abbey Experiences recommended in my best selling Irish Travel Guide on Amazon.com Where to Eat, Sleep & Play 2015

For more information about Ballyvolane House please click here