Bromore Cliffs, County kerry
introduction

Bromore Cliffs is an enchanted kingdom less than a mile from the popular seaside resort of Ballybunion in County Kerry.  A real hidden gem, it has only been opened up to the public recently by landowner Mike Flahive whose family have owned and farmed the land here since as long as can be remembered. Apart from the dramatic scenery, Bromore Cliffs are a floral delight with over a million flowers blooming each, nectar for the bees and shelter for the birds and wildlife overseen by Bart, the friendliest horse in Ireland.  Bromore Cliffs is kind of Disney meets Game of Thrones territory and a superb example of Ireland's Wild Atlantic Way at its fiercest and most spectacular!
The Devil's Castle sea stack at Bromore Cliffs, County Kerry
about
Bromore from the Irish Bru mhór, meaning a large gathering place, has it all with an ancient promontory fort, that couldn't be more strategically more perfect, surrounded by 200' sheer drops into the sea on three sides and rolling fairy wind meadows to the landward. The sea and the elements have carved out huge caves where mermaids have been spotted combing their hair while waterfalls thunder down from the fields, crashing onto the beaches below. It's a geologists and a storytellers dream with stories, beautifully depicted on information plaques at each of the viewing points which run along the old prehistoric road that linked the various forts and castles from Beale to Ballyheigue.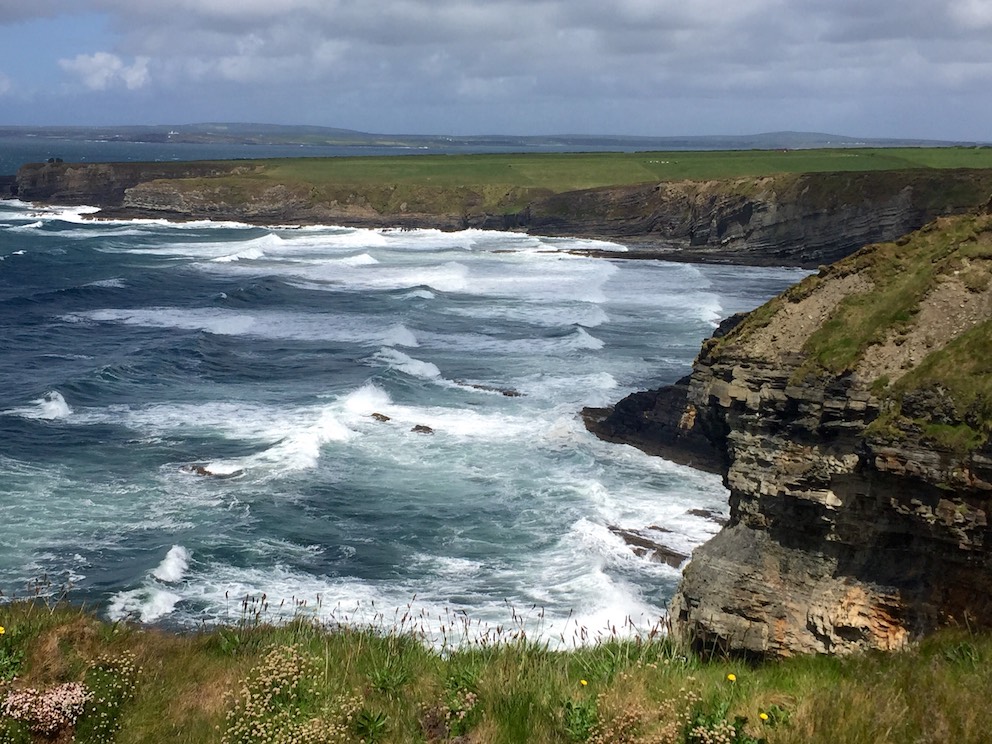 Big Atlantic waves rolling into the Bromore Cliffs in County Kerry
History
Central to Bromore is the iron age dún (an earthen fort) right on the cliff edge that now doubles as a viewing point and picnic area. Which is a far cry from the last inhabitants who liked to poke and prod their enemies out onto the last steps (a craggy overhang) before falling to their gruesome deaths below.....Aw the stuff of Irish bedtime stories, but who wouldn't be inspired by the Devil's Castle, a lonesome sea stack where sea eagles have nested in the past having carried off bold children from their beds (only kidding) But apparently the fairies have been known to stir up strange little whirlwinds in the meadow that runs alongside the well kept grass paths down to the cliffs.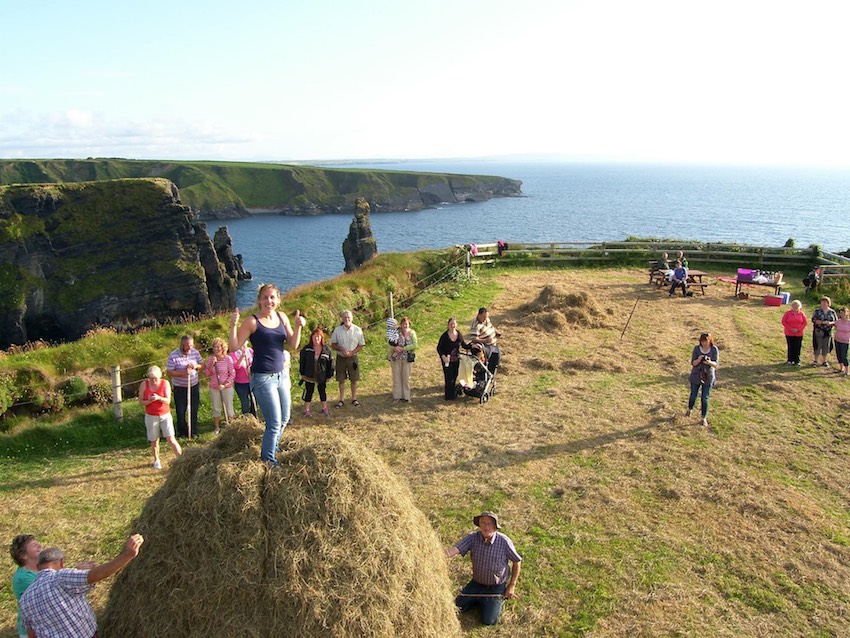 "Hay and Tae Day" at Bromore Cliffs, County Kerry
why visit?
Bromore Cliffs is the perfect place to blow away the cobwebs or to spend 'High days (literally) and Holidays" and is one of the most startling, dramatic and beautiful places I have ever come across on my travels through out all of Ireland over the last 10 years. Forget the Cliffs of Moher or even Sliabh Liag, Bromore is way more impressive and the best bit, you will most likely have the place to yourself, apart from the fairies that is....
For more information or to book a guided walk with owner Mike Flahive please visit Bromore Cliffs or if you want to visit independently it's €5 to park your car which goes towards the upkeep of this beautiful and rare hidden gem. 
Keep an eye out on Bromore Cliffs Facebook Page for news of the Hay and Tae Day  in late July / August which is a fun day out where the hay is gathered and saved in the traditional style with plenty of music, craic and tae of course!