Fine dining in Ireland ....
Fine dining is a relatively new concept in Ireland, largely due to the financial boom of recent years when Irish people travelled extensively, developing more sophisticated palettes that opened up a market for top class restaurants. Which had been limited before to a couple of well known establishments like Le Coq Hardi in Dublin or the Arbutus Lodge in Cork, both long gone the way of bankers, politicians and men-in-suits with large (very large) expense accounts.
The Celtic Tiger paved the way for a new era of Michelin star chasing restaurants which triumphed in the blaze of publicity that surrounds celebrity chefs nowadays, yet has on occasion burnt out just as quickly to disappear without trace in these recessionary times. Those that survive are true heroes of their craft, constantly excelling in standards of fine cuisine, fresh produce, ambiance and first class service, like Chapter One, L'Ecrivan, MacNean House, which of course comes at a price.....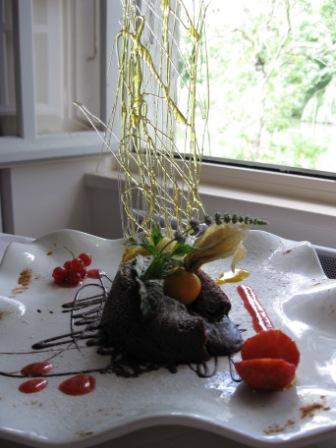 That said, my favourites are those that support the local artisan food producers and their products. Fresh, organic vegetables, locally hung meat, fresh fish, cheeses & even chocolate. The Top 10 Restaurants listed in my Ireland Travel Guide are exceptional and have been chosen for all of the above reasons and more. As always, I will keep a weather eye on what's happening food wise in Ireland and continue to champion those restaurants which are working really hard to maintain their standards during these difficult times. Bon appetit....
My current favourite is the Belleek Restaurant in the Manor County House Country Hotel in Enniskillen which was the best priced (£35) fine dining experience I had in Ireland this year and one of the Top 10 Fine Dining experiences listed in my eBook Where to Eat, Sleep & Play in Ireland - 2014