Galway Tour Company
As simple as ABC the Galway Tour Company operates Ireland's most popular tours to the Aran Islands the Burren including the Cliffs of Moher and Connemara. These convenient yet wildly diverse locations are not to be missed as they each offer very different experiences of Ireland, for reasons which I will explain later. But why choose the Galway Tour Company when there are lots of other tour companies offering similar itineraries?
Firstly beware of hidden extras, the cheapest tour price isn't necessarily if you then have to pay into everything while en route. With Galway Tours any admission charges are included in your ticket price unless specifically stated otherwise in advance.
Secondly and most importantly their drivers/guides are by far the friendliest and the most experienced people in the business.
And thirdly all of their tours operate daily regardless of the weather apart from Christmas Day & St Stephens Day which is fantastic, as is their pick up service from your accomodation in Galway.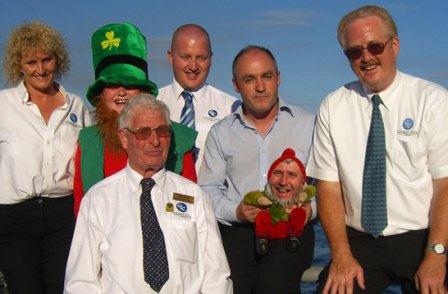 But even if you are not staying in Galway they are now operating the same day trips from Dublin, so you need not miss out on seeing the West of Ireland which more often then not is the reason people come to Ireland in the first place!
The Aran Islands are absolutely unique, almost pocket sized versions of Ireland, and still backwaters of Irish culture and tradition. Strongholds of the Irish language they are cut off from the madness of the mainland in more ways then one. So you have got to go and see at least one of them. And the handiest and most popular is Aran Aran Mor (the big island) with the spectacular Dun Aengus stonefort perched on the edge of 600' high cliffs overlooking the Atlantic.
The Burren and the Cliffs of Moher just south of Galway is another unique landscape in Ireland. This Karst limestone plateau, once a subtropical seabed millions of years ago is wild, barren and breath takingly beautiful. The coastal drive via Doolin and Black Head, described by Conde Nast Traveller as one of the 10 Best Road Trips in the World in 2008 will blow you away, quite literally. As you stop off at castles, fairy forts and portal dolmens en route to the Cliffs of Moher which has been shortlisted as one of the 7 New Wonders of the World to be decided in 2011.
Connemara who could pass on a trip deep into the heart of postcard Ireland. Its impossible to do it justice in words you have to see it for yourself, if you havent already seen it in films such as The Field and The Quiet Man which was shot there in the 50's and hasnt changed a whole pile since. The bus winds its way through lonesome valleys dotted with sheep, past towering mountains and inky blue loughs with more fairytale castles, like Ashford to explore. And the wonderful Kylemore Abbey which once exported pineapples to London in complete contrast to the peasants diet of potatoes at the time.
But you will hear all about that and other great stories if you choose any of the above tours or like most people, time permitting all three... If you do decide to extend your stay the Galway Tour Company will even transfer you back to Dublin at a later date at no extra charge.
For more detailed information about these tours and for the best discounted ticket prices click on the links below to book online.
To Book Online with the Galway Tour Company please click here For more information on Irelands Islands click here
Irelands Hidden Gems - Galway City Guide is now available as an iPhone app It features the 10 Best of Everything there is To See and Do in Galway, plus an extra What's On in Galway? page which is updated monthly and a handy map showing all the major landmarks etc.