Click here for details of Irish expert Susan Byron's Guided Tours of Ireland's Hidden Gems in 2018 
Gap of Dunloe & Lakes of Killarney Tour
The Gap of Dunloe Tour is one the Top 10 Scenic Tours of Ireland and if the Gods smile on you and you are fortunate enough to get a fine day, then you are in for one of those rare, once in a lifetime experiences. The tour leaves early about 10-ish (we're on Kerry time here) A vintage coach picks you up from your accomodation and brings you to Rosse Castle, where you can have a little wander about before setting off in an open boat (maximum 12 people) for a leisurely 13 mile boat trip which takes you up through the famous lakes of Killarney via the meeting of the waters. When I asked Tadhg our boatman, who knows these lakes like the back of his hand, how long they had actually been doing this trip? "Ara, not long at all really, since about the 1800s" Which is when Queen Victoria (God Bless her) came to visit for on a three day trip back in 1861 taking a royal barge on the very same trip, which sparked a great interest in visitors from England, keen to repeat the experience. Her great, great grand-daughter Queen Elizabeth II followed suit just 150 years later back in 2011....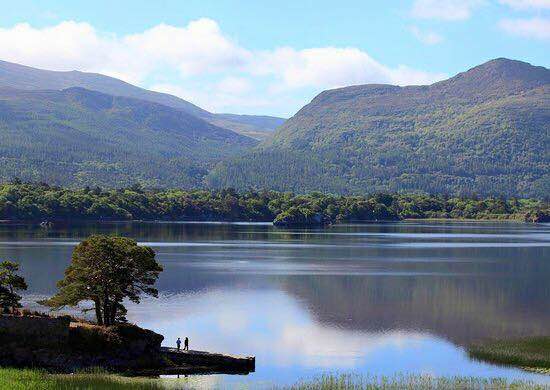 The Lakes of Killarney, County Kerry
Every bend in the river hauls up fresh vistas, each one more stunning than the last, in fact a Swiss lady who accompanied us happily agreed it would give her native home a run for its money. The boat trip eventually winds up at Lord Brandon's cottage, about 2 hours later, where you can get a light lunch before the second leg of the Gap of Dunloe Tour which is a long walk, hike or ride in a jaunting car over the 7 mile long Gap of Dunloe which is the only pass along the 20 mile ridge of MacGillycuddy Reeks. Not wanting too waste too much time, okay being lazy, I opted for the jaunting car driven by Pat who was born and reared in the Black Valley of hardy stock that included Mystery, the horse (it's all in the name, herself took it easy going downhill, yet galloped uphill?) What followed was another couple of blissful hours while trying to take in the scale of the mountains and the vast quietness, interspersed with plenty of good ole chat and renditions of "My Lovely Horse, running through the fields" (Father Ted like) with Tom and Catherine pictured below.....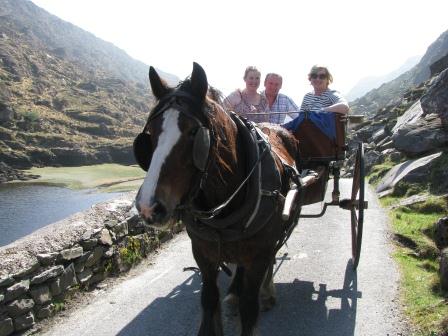 A jaunting car ride through the Gap of Dunloe
We stopped up at the actual gap to let Mystery have a drink and posed for photographs, prior to the home run (leisurely trot in Mystery's book) down to Kate Kearney's Cottage for restorative pints of Guinness. All in all, it was one of those extra special days that makes life worth living. Put the Gap of Dunloe on your bucket list and if God spares you, do it....
To book the Gap of Dunloe Tour online, please click here