Posh Hotels Ireland
The upside of the recession is that many of Ireland's best hotels, the 5 star beauties in particular, are now owned by the 'Banks' which means that prices have been slashed in order to keep these places open, trading and the lights on. Which is very good news for guests, especially as in most cases the existing hotel management has been retained. So you need not worry that the standards have dropped, in fact, the opposite seems to have happened in the bid for new business. These previously, price prohibitive establishments, formerly the preserve of politicians, the well-heeled or celebrities are now available to the ordinary individual or tourist with an eye for a great bargain....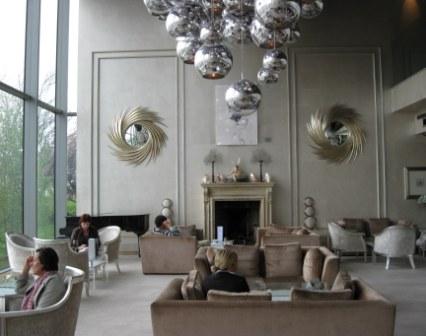 And you can take my word for it, all of the posh 5 star hotels in Ireland, listed in my eBook are absolutely fabulous darling! Millions of euros have been spent on their design, décor and maintenance so you are in for a real, but very affordable treat. The best deals are to be had mid-week with a full Irish breakfast and often dinner included. Many offer 3 nights for the price of two which is a great idea, if you intend spending time in a particular area. Green Fees or Spa Treatments are normally extra but do check the websites below for all-inclusive offers and book direct or phone them up and talk them as they are often far more amenable in an aim to avoid paying the extra commission the discount websites are charging them so go bag yourself a great deal....
My current favourite is Mount Juliet Thomastown, County Kilkenny another luxury old world retreat, in a very scenic area which has featured in many chick flicks including 'Circle of Friends' and 'PS I love you'. Luxurious accommodation and very fine food, do try the tasting menu in the Lady Helen Restaurant (there might be a small supplement to the inclusive rate) but I can honestly say it is one of the best in Ireland. So if you are a foodie, don't even think about it (read my review above) Apart from that, there is a great spa, open fires, lovely décor, country walks, need I say more? oh and golfing of course. Designed by Jack Nicklaus apparently it is perfect and has the only putting course in Ireland at par 53.
The G Hotel in Galway (pictured above) is another one of the Top 10 Posh Places to Stay for Peanuts recommended in my eBook Where to Eat, Sleep & Play in Ireland 2014