Ice House Hotel, Ballina
A river runs by....(the Ice House) in Ballina, not just any river but the most important salmon river in all of Ireland, the River Moy. It made the town of Ballina's fortune at the turn of the last century with the finest quality salmon being exported to the fish markets of Dublin and London. Packed in ice, that was hewn from by hand from frozen lakes in the locality during the winter and stored in the original vaulted spaces underneath the Victorian styled Ice House. With the advent of refrigeration it fell into disuse before being cleverly redesigned and remodelled as a "cool" for different reasons entirely, modern, boutique hotel. And yet the river is still the star of the show, endless and timelessly moving and changing with the light and seasons, teeming with fish and wildlife. Herons and egrets wade in the shallows while mallard and geese paddle about midstream, oblivious to urban life on the waterfront. Light filled bedrooms with glass walls and private decks invite one to get in the flow, all that's missing is binoculars and perhaps a fishing rod....
Not that you will have  any need of the latter, as chef Anthony Fuller from Achill Island, sources the best of the Wild Atlantic Ways catch for inclusion in his signature chowder or main course daily offerings. Carmelized pineapple, fresh prawns and feta cheese salad made for a tasty starters as did the Portabello Mushrooms with parma ham and grilled cheese. Local rack of lamb and braised beef with oxtail potato cake were hearty mains, while the vanilla pannacotta with raspberries were as light as a feather. Plenty of nice wines by the glass, I chose an Argentinian Malbec, while lunch crispy lamb on the day was excellent value at €14.95 which included a complimentary glass of Sauvignon Blanc from the Loire Valley or a rich red Merlot from Australia. Apart from the great food, I really liked the how light and airy the mainly glass River Restaurant was for both breakfast and dinner. As the days shorten we need all the light we get and for some reason, good design no doubt, it manages to feel intimate and cosy at the same time and the background music of blues/jazz was just perfect....
Natures bounty doesn't end at the table either with a range of natural seaweed products from world renowned organic producer Voya in nearby Strandhill, in County Sligo being used in the Chill Spa at the Ice House. It's simple, I love when Irish spas promote Irish products and they couldn't be a more perfect fit in this beautiful waterside location. Besides, it makes me feel (only slightly) less self indulgent while I am flat out being pampered by Tatler Award winning therapists in 2014. Signature treatments include a variety of full body massages using a mixture of techniques, creams, hot oils and / or hot stones from Enniscrone Beach. I chose an illuminating Voya facial which involved several exfoliation and deep cleansing rituals, culminating in a clay mask layered with fresh seaweed leaves which incorporated a deeply relaxing reflexology foot massage while the Fucus Serratus worked its magic on my wrinkles!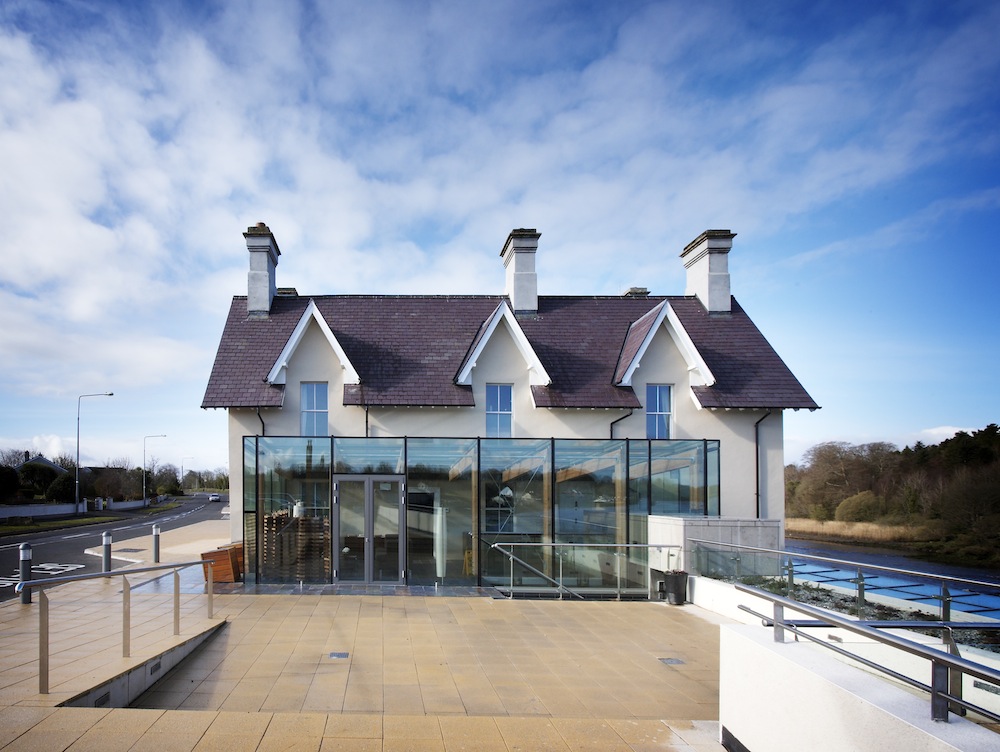 For more information or to book some quality chill time at the Ice House Hotel please click here.