Irish Car Rental 
Renting a car in Ireland is easy despite what you may have heard. First off, Ireland is a small country, roughly 140 miles wide by 300 or so long, so there is no fear of you getting lost, just don't pay too much heed to the distances quoted on road signs. What Google might calculate as an hour long journey, can morph into several more, when you factor in numerous distractions and photo opportunities, which is all part of the huge attraction to Ireland for our visitors. Dublin is the capital and the main transport hub. Dublin airport is to the North of the city with only a bus or taxi service into the city centre. Main line trains to Cork, Galway, Kilkenny, Killarney and Sligo leave from Heuston station, while Belfast and Wexford are served by Connolly station, with the mainline bus station just opposite at Busaras. You won't need a rental car if you intend staying in the city for a couple of days there are plenty of hire depots down town. Public transport is quite good especially in Dublin with the Luas Tram Line and if you buy one of the City Sightseeing Tours (your ticket is valid for 48 hours) so you can use it as a free taxi although Dublin is very compact and walkable. There are also plenty of bus tours from most major cities enabling visitors to venture further afield. However for complete flexibility particularly in remoter areas i.e. anywhere outside of Dublin (only joking) you really need to rent your own car, but be prepared for the odd traffic jam....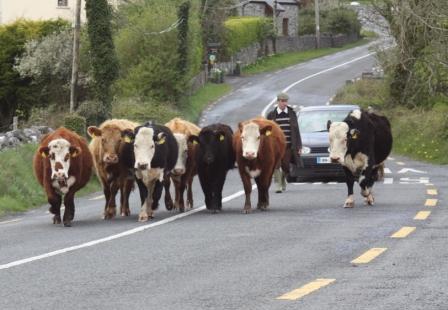 Okay, you probably won't see a herd of cows in Dublin, but anything goes on the back roads including large tractors and the odd slurry tanker or two. On the coastal roads and more obvious scenic routes you may encounter lots of tour buses, a good tip here is to leave early to get ahead of them or set out about lunchtime when they have probably already reached their destination and are on their way back home. And please observe the average speed limit which is 80kms, 50kms in built up areas and 120kms on motorways. But use your common sense adjust your speed to suit the conditions and pull over well out of the way if you want to take photographs or read your map. You can hire a sat nav from your rental company, I wouldn't advise relying on your smart phone as apart from cost of downloading data, the more remote you get in Ireland the weaker any internet or wifi signal is going to be. A good back up is to buy the Ordnance Survey Road Atlas of Ireland, which is published annually, costs about €10 and is available in most grocery stores and petrol (gas) stations, there is even one for the Wild Atlantic Way now. And in case you don't already know WE DRIVE ON THE LEFT in Ireland, so stay in the flow of traffic approaching roundabouts, if you are not used to it and take your time. As they say in Ireland "when God made time, he made plenty of it" besides you are on your holidays, so what's the rush?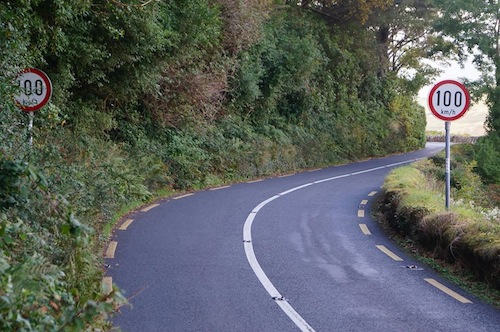 Another thing, if you are used to driving an automatic car, rent an automatic rather than a manual (stick shift) car. Yes they are considerably more expensive, due to a relatively small supply but also because of a need to comply with insurance laws which entitles the person renting the car to have their case heard in their country of origin ie the USA, which could mean flying a whole legal team over there, should the worst happen? Hopefully you won't be involved with any accidents, but you don't want to spend your precious vacation time dealing with a burnt out clutch either!
About parking, don't park illegally as you will be clamped and it will cost you anything from €80-€120 (cash) to get it released. We are scourged right now with private clamping companies acting on behalf of local county councils and private businesses, who will show you no mercy. If in doubt ask someone, preferably a member of the Garda Siochána (Irish Police) to help you.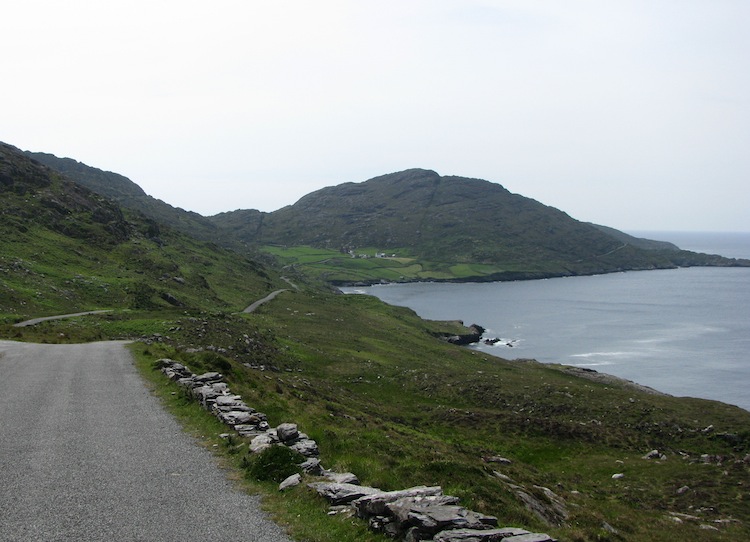 Also, be very careful when visiting major tourist sites, park in the designated areas and lock valuables in the boot, rental cars are easily recognizable by the little yellow number on the back windscreen and so are a handy target for thieves so don't make it easy for them. Most of these areas are monitored by CCTV but you are better off safe than sorry.
To fool them and act like a local you should master the 'one fingered salute'  keeping both hands on the steering wheel, simple raise the first finger of your right hand when you meet someone on the road. Add a slight nod of the head at the same time and you will be considered a native in no time....
Finally, I recommend you use an Irish car hire company, as they will have people on the ground who will sort you out anytime of the day or night if you have a problem? The best car rental company in Ireland at the moment is Irish Car Rentals.com which is wholly Irish owned and run, it is service with a smile all the way and they are guaranteed to beat their competitors on price. With pick up points at all of Ireland's major airports, excluding Belfast, as well as city centre locations for your convenience.
To book a rental car in Ireland online please click here.