Irish Crafts where to find them?
Avoca shops in Ireland evolved from the original Irish craft of handweaving. Three sisters inherited the small mill in Avoca famously introducing colour to the yarns which drew international acclaim when the designer Elsa Schaparelli used their tweeds for a collection in the 1930's. Synonymous with colour ever since Avoca has become a veritable 'lifestyle' choice here in Ireland not just for tourists but for locals who wish to sprinkle a little 'homely' magic dust on their dull semi-ds. It is impossible to go into one of their delightful shops, aladdins caves, which are brilliantly styled with colourful seasonal displays of sumptuous foodie bites, house and garden thingies, gorgeous clothes and jewellery not to mention delectable kids stuff and the softest throws and baskets without swooning and coming over all earth mother and domestic goddess rolled into one.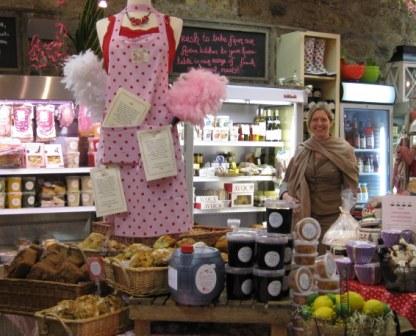 Kilkenny Design is very smart, very now having morphed from the traditional tweedy, woollen, crystal kind of go to incorporating the best of Irish & International fashion (not sure about Guess bags) I would much rather have a Holden Leather bag designed and made in Dingle. Award winning contemporary jewellery from designers like Alan Ardiff, who's 'Heart of Gold' series is destined to become the heirloom of the future. And luxurious tableware that have made household names of potters like Nicholas Mosse and Louis Mulcahy who incidentally have great outlets of their own.
Newbridge silverware once famous for cutlery has expanded with the introduction several years ago of designers such as John Rocca & Louise Kennedy coming on board to produce iconic contemporary silver jewellery, glass and special occasion giftware lines which are on wedding wishlists throughout the country. Which led to a cool new free exhibition centre in Newbridge dedicated to Style Icons such as Audrey Hepburn, Grace Kelly and Marilyn Monroe. And of course the late great Michael Jackson which cleverly gained them (tastefully before he died) world wide attention, well done Newbridge....
The 10 Best Craftshops in Ireland are....
1 Avoca Handweavers
2 Kilkenny Design
3 Foxford Woollen Mills

4 Judy Greene Galway
5 Newbridge Silverware 6 Waterford Crystal
7 Galway Crystal
8 Barna Village Craft outlet
9 Carraig Donn Knitwear
10 Louis Mulcahy Pottery, Dingle
For more information on which irish crafts to buy please click here