Planning a Trip to Ireland or Scotland next year? Click on the following links for dates and details...
Guided Tours of Ireland's Hidden Gems 2023 

Guided Tours of Scotland's Hidden Gems 2023 
Irish sayings.....
We Irish are renowned for having the 'gift of the gab' although no Irish person need ever kiss the Blarney Stone as we were born talking! And we will talk to anyone about anything, politics and religion are far from being out of bounds in Ireland, they only add fuel to the fire when we run out of stuff to say about the weather, which is our favourite topic of conversation by 'a country mile' (endless)
One of our favourite Irish sayings is 'it's a good day or a bad day depending on how you look at it' which kind of typifies our behaviour and attitude to life in general. And we are never slow to see the funny side of any situation, or poke fun at ourselves, no matter how dark. Another Irish saying we are constantly preaching to less enlightened races is 'when God made time he made plenty of it'.
Ireland is very laid back and relaxed, life here is not lived at a fast or efficient pace. 'What hurry is on you?' someone might say to you if you try to make a quick getaway or a huge insult might be 'here's your hat but where's your hurry?' if you try and cut short a visit, especially to an elderly neighbour or relative. It might annoy you when trains don't run on time or an event that is due to start at 9pm doesn't get going until after 10 at the earliest. But, the flip side is that people, shopkeepers and bartenders in particular will often open up or entertain you 'after hours'.
Another favourite is what is referred to as 'a pet day' which is a mild sunny day in the middle of winter whereas 'a day for the high stool' is the opposite ie so bad that you would be as well off perched the other side of the counter having a pint of Guinness or a hot whiskey in a bar somewhere......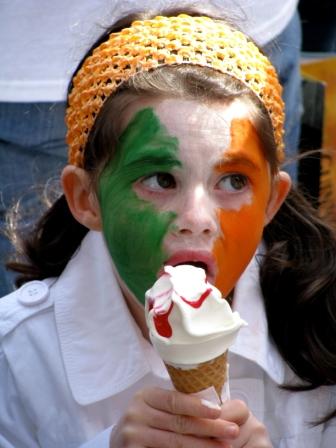 If someone dies, we say that we are 'sorry for your trouble' without even mentioning the person's name or the sad event. It's a great cover all that avoids the possibility of saying the wrong thing in awkward situations. Another often used Irish expression of sympathy is 'Ar dheis Dé go raibh a h'anam dílis' which means 'may his holy soul be on the right side of God'. Someone who has just bought a new outfit will be wished 'health to wear' meaning that it is hoped they will be around long enough to wear it and get value out of it. We say same thing about cars and houses even though you are not actually going to 'wear' them obviously.

Lots of Irish sayings surround Irish wedding traditions such 'as God made, them he matched them' and if He didn't, the matchmaker would. Or 'would you like to be buried with my people?' was an alternative, but not the most romantic wedding proposal in Ireland not so long ago !

More generally you will hear in Irish or 'as Gaelige' as we call it 'Dia dhuit' which means Hello, or 'God be with you'. The proper answer is 'Dia is Muire dhuit' which means Hello yourself or 'God and Mary be with you'. Then one might say 'Tá failte romhat' or 'Cead mile failte' which means you are welcome or 100,000 welcomes. When leaving we say 'Slán leat' which means goodbye, the appropriate answer being 'Slán agus beannacht leat' meaning goodbye and God Bless or more fondly 'Saol fada chugat' Long life to you.....
For more details re Susan Byron's exclusive Guided Tours of Ireland's Hidden Gems please click here. 

If you would like an Irish Blessing please click here.