Kenny Gallery, Galway
The Kenny Gallery in Galway is the place to go if you want a crash course in contemporary Irish Art. Tom Kenny, whose parents founded Kenny's Bookshop in the front room of their house in Salt Hill in 1940 is an expert and fond of the chat, like myself! They moved to High Street a few years later and quickly became a Galway institution with a quirky 3 storey space of lined with books, mainly of Irish interests and photographs of famous patrons, authors and playwrights. Tom accompanied his father on many book and picture buying expeditions, quickly becoming acquainted with many hitherto unknown artists like Kenneth Webb and Gertrude Dagenhardt a German lady with uncanny knack of capturing the Irish exuberance of song and dance.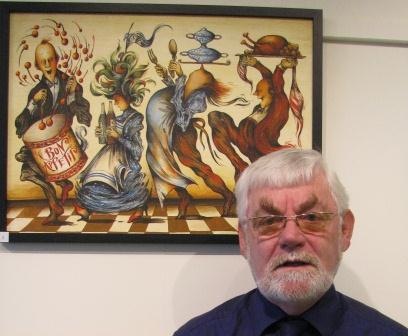 The shop in High Street stretched over to Middle Street, with the gallery at the back entrance, many's a good night we had there at openings where the chat and the craic was as good as the exhibition. Sadly Kenny's decamped to the Liosbán to expand their online bookshop, the first in the world by the way, tore a lump out of Galway's heart that has never been replaced. One of the great pleasures in life was ducking in for a browse around the nooks and crannies you never knew what you would find or who you might bump into and there was always the pleasure of a chat with Tom that could and often did go on for hours. Tom is still as affable as ever you just have to make an effort to seek him out above in the Gallery at Liosbaun where there is always a good selection of paintings and sculpture to spark your interest and start a conversation
For more Things to Do and See in Galway please click here.
For more information about the Kenny Gallery please click here.