Galway - home from home...
Galway is very different to any other town in Ireland, while officially a city it has a cosy village feel about it, especially in the wintertime when practically all of the tourists have gone and it is not so busy, although that is what give Galway its famous buzz. It is a second home to lots of people like myself, who have a special grá (love) for the place.
And, personally, I cannot think of a better way to spend a Saturday, then traipsing around the city which, typically, starts with a wander through the early morning market. Meeting and greeting the familiar faces of local traders, as they go about their business, as they have for years now in the shadow of the medieval church of St Nicholas.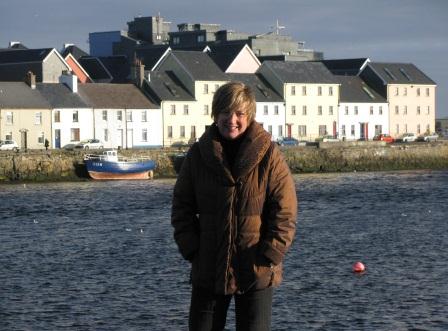 Christopher Columbus actually visited and prayed here in this church, before setting off for the New World with a Galway man (and his dog) in tow. In fact it is the oldest Church of Ireland still in daily use. Perhaps Christopher Columbus even picked up some supplies in Shop Street, the main shopping street (we won't say drag) because there's nothing dreary or generic about it. Shop St is always a hive of activity with live music and various street acts daily. And thankfully we still have some good old shopping institutions left there, like McCambridges (food emporium) with excellent new restaurant upstairs, Anthony Ryans (drapers) and Powells (music shop) but first coffee....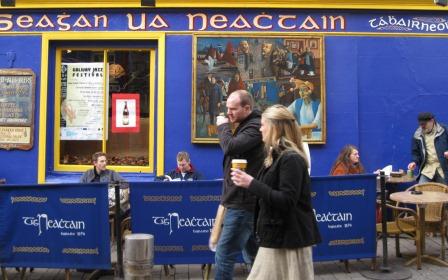 It seems to me, we now have more coffee shops then pubs in Galway which is kind of worrying, though maybe not first thing of a morning? Griffins is delightful with cosy real turf fires, Mocha Beans was one of the first trendy coffee shops (just around the corner in Cross St and Butlers do great take out coffee, with a free handmade chocolate! So you can sip away and watch the world go by .... and decide what you are going to do for the afternoon, if anything?...
The 10 Best Things To Do & See in Galway....

The 10 Best Hotels are.... The 10 Best Restaurants are.... The 10 Best Pubs are... The 10 Best Shops are.... The 10 Best Cafés are..... The 10 Best Craft/Gift Shops are.... The 10 Best Food Shops are... The 10 Best Bargain Bites are...

Irelands Hidden Gems - City Guide to Galway is als available as an iPhone app Price €2.99