Galway Cafes
It's not known the amount of cafés there arein Galway now, I am going to have to go on a serious coffee crawl (will make a change) and come back to you on that one, but they seem to have sprung up everywhere and possibly now even out number the pubs, which is kind of worrying?
Never mind, the best in my opinion are the ones that began as bakeries, so you are always going to get fantastic home baking, scones, apple pie, cakes and a decent sandwich. Like Griffins on Shop St where they even have real turf fires. Then we had the new kids on the block like Mocha Beans (the original) and Arabica, which introduced gourmet coffees and muffins, imagine? And now we even have Butlers who are doing a fantastic take out trade, what is the world coming to?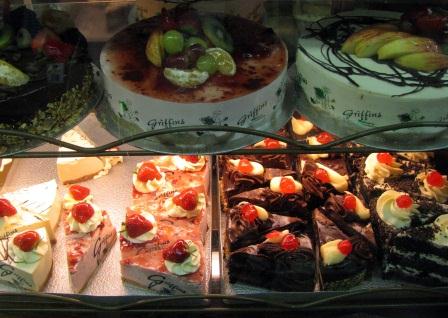 Apart from resting your feet up for a few minutes the whole point of having coffee in any of the Galway cafes, if you are not meeting up with someone is watching the world and his mother go by and we all have our favourites for doing just that, depending on the time of day of course? Because apart from mid morning coffees or afternoon teas they also double up as great lunch spots. I like Goyas paté with extra toast and you have got to try their foot deep lemon meringue pies, or Sam Baileys great soup and brown dread for €4? or if I want a bit of peace and quiet (allergic to screaming kids and buggies me) Café 8 at the Galway Museum, fabulous mediteranean vibe, or upstairs in the Born Centre, great views, deep comfy sofas and tea cosies like your granny used to knit....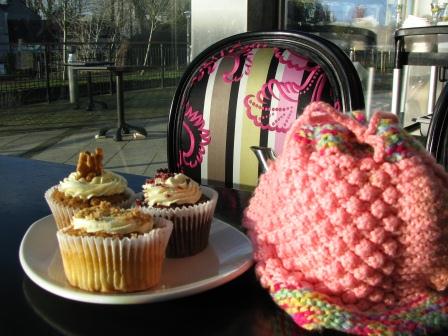 Irelands Hidden Gems - Galway City Guide is now available as an iPhone app It features the 10 Best of Everything there is To See and Do in Galway, plus an extra What's On in Galway? page which is updated monthly and a handy map showing all the major landmarks etc.
The 10 Best Galway Cafés are....
1 Antons Father Griffin Rd, Morrocan vibe, paninis, wraps, salads and mint tea.
2 Born Centre Bright and cheerful, comfortable couches, teapots with knitted cosies, wonderful scones and 'red velvet' cupcakes!
3 Butlers Shop St, very popular take out coffee or hot chocolate with a free handmade chocolate of your choice.
4 Café 8 Galway Museum Spanish Arch, marvellous mediteranean food, nice quiet cultural surroundings.
5 Goyas Café Kirwans Lane, raspberry cream roulades, lemon meringue pies, to eat there or take away.
6 Griffins Bakery Shop st, traditional homebaking & real turf fires.
7 Mocha Beans 3 locations, great all-day breakfasts, not to mention the best coffee in Galway and cranberry scones.
8 Revive on the corner of High St & Cross St, upstairs is a real hidden gem of a room with tall windows looking out on the buzz of Quay St.
9 Sam Baileys Eglinston St, great soup & brownbread, with nice healthy lunch options at reasonable prices.
10 An Cupan Tae (the cup of tea) Spanish Arch, just opened an Irish style, your Grannys sittingroom, speciality tea shop everybody is raving about.
And last but not least Claires Tearooms in Clarinbridge, well worth the trip out and the kind of place your Mum or Granny would absolute love. Very cute, with china tea cups, table cloths, stripped pine furniture, plenty of cushions the works....
For more places to eat in Galway please click here

For more about Irish Home Baking please click here

To return to the Galway Homepage please click here