Galway Pubs as plentiful as they are colourful...
Now, I am no expert on Galway Pubs, but my grown up kids to their eternal credit (or my shame) are. In fact, they are on first name terms with most of the bartenders in well, practically all of them. And like any other city, your choice of watering hole will depend pretty much on your taste in everything from the decor to the music, age profile, depth of your pocket to the company you keep? Which is probably your reason for going there in the first place? Other than that, where to get the very best pint of Guinness would be high on the list of most people I know, which my 'experts' assure me is in The Crane Sea Rd, although McSwiggans ,Eyre St, would be a close contender with nice creamy pints of Guinness on permanent offer at €3 a pint....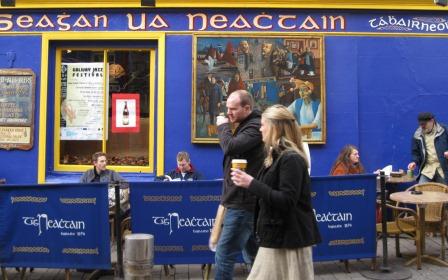 Galway pubs can be broadly categorised by the types that frequent them ie Trendy Young Things strictly 20-30 year olds prefer the BierHaus, Massimos and the Blue Note which apparently has 'cool tunes' whatever they are? (joking) with The Crane, Roisin Dubh and Munroes bringing up the rear for traditional music and contemporary gigs. The After Work Hangouts include the likes of Bar 8 on the docks, The Dail (not the real one) the Front Door and Busker Browns where after work can easily run into breakfast the following morning.
The Rugby Pubs ie the best places to watch 'the match' could be GAA either or indeed any sporting event where there's a green jersey involved? are the Spanish Arch Hotel which also has very good and reasonably priced barfood, always handy if it's going to a long day? Fagans, downstairs in the Meyrick or The Cottage out in Salthill.
We absolutely love this, having found the perfect excuse to spend whole weekends in the pub if need be? If you want join in you might need to check out a few of our National Anthems Did you know we have two at the start of each rugby match? You see I told you it was important stuff....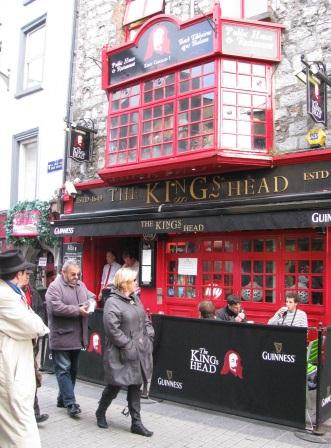 And lastly the Touristy Pubs as in the Kings Head, The Quays, Munroes and An Pucan if you fancy a bit of Irish dancing? or indeed an excellent breakfast? in which ever order you would prefer? In fairness, these venues are hugely popular because the people involved make a great effort to put on a really good show for the tourists and the locals. Most of the gigs are free and each venue has a unique and real Irish personality, all of them are hopping till very late 7 nights a week, especially during the summer.
But if a fella (God forbid) had to pick one pub, just one? it would have to be Tigh Neachtain or Naughtons as it is known locally yet is dearly loved and cherished the world over. Having offered comfort and succour to manys a weary soul for just about forever, Slainte.
Irelands Hidden Gems - Galway City Guide is now available as an iPhone app It features the 10 Best of Everything there is To See and Do in Galway, plus an extra What's On in Galway? page which is updated monthly and a handy map showing all the major landmarks etc.
The 10 Best Pubs in Galway are....(please God I wont be shot?)
1 Naughtons corner of Quay St & Cross St, well put it this way you wont miss it? A colourful pub in every sense of the word.
2 The Crane, Sea Rd traditional music sessions every night and the best pint of Guinness in Galway.
3 McSwiggans, Eyre St have a permanent offer of €3 a pint of Guinness or glass of wine, great food, smashing snug and free music gigs.
4 The Kings Head, High St this pub dates back to medieval times and has a serious history, great fireplaces, good food and drink.
5 Taffes next door, good no-nonsense local Irish GAA Pub.
6 Tig Coilli opposite, free traditional music daily with Sundays being the serious sessions.
7 The Quays where else Quay St, very popular on every level, there's lots of them, good music and craic, great bar food and a wicked big cast iron stove to toast yourself in front of during the winter.
8 Munroes, Dominick St in the heart of Galways West End, another deservedly popular pub with tourists and locals alike.
9 Roisin Dubh, Dominick St probably the best music venue in Galway.
10 The BierHaus, Henry St every bottled beer known to man including the local 'galway hooker'. Live djs by night, jukebox jives by day.
And finally if you just want to meet and greet a friend or business associate, sit by a nice fire with an Irish Coffee hot whiskey or sip cocktails on a high stool? then any of the bars in the Galway Hotels that I have recommended here are ideal, they are just not proper Irish pubs by any stretch of an interior designers imagination, you understand ....
And news just in? Authentic Ireland have a special offer on their excellent Music and Pub Guided Tours of Ireland with $200 discount per couple with bookings this month. For more details and a nice little video check out the following....
Authentic Ireland - Unique Pub & Music Tours

For more information on Things to See and Do in Galway click here

To return to the Galway Homepage please click here