How to tell a good Irish coffee?
A good Irish coffee should look like a pint of Guinness? No seriously, there should be a cold, thick, firm, creamy head on top of the dark, clear, scalding hot coffee and whiskey mixture. It definitely should not have mixed or curdled, if it has, send it back and insist on a replacement. Half the pleasure of an Irish coffee is sipping the hot coffee/whiskey through a layer of cold cream. It was invented by chef Joe Sheridan in the bar of the Foynes Flyingboat Terminal in the 1940's to warm up damp cold passengers en route to the USA, it still does the trick on a wet miserable afternoon or as an after-dinner soother.
Irish coffee recipe Half fill a glass with strong black hot coffee, add sugar and a generous measure of Irish whiskey , stir and allow to settle, drop in a good dollop of freshly whipped cream, the thicker the better, then it will not sink. Sip slowly in front of a blazing log fire with your feet up....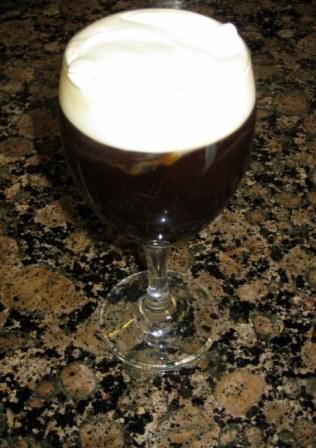 Baileys coffee is a modern variation, substitute Baileys for Whiskey as per the recipe above or for the quick and extremely popular version, just lash plenty of Baileys into your coffee when ever the opportunity arises....Slainte !
How to tell a good hot whiskey? Smell it, the fumes should knock you out (only joking) but you should get a nice steamy whiff of whiskey and cloves which is why it is so good for colds. Throw a Lemsip into it and you have a guaranteed cure for even the worst type of a flu....
Recipe for Hot whiskey put a nice measure of Irish Whiskey into a strong glass, add a spoon of sugar and a small drop of boiling water, and a slice of lemon studded with cloves. As before sip slowly in front of a blazing log fire...or tucked up in bed with your duvet if you are very bad...
How to tell a good pint of Guinness? Watch how it's pulled? it has to be allowed to settle and then topped up or have 'a head put on it' and settle again. Guinness was not invented for impatient people or for anyone in a hurry, its an art. Having celebrated 250 years of tradition in 2009, visitors are very curious and rightly so about 'the black stuff' or 'the pint of plain' probably because to them Guinness is synonomous with Ireland and is known worldwide.
Yet no matter what tricks they try to transport it by kegs, bottle or fancy cans I defy you to find an Irishman or woman who has ever had a better pint in Dubai, Sydney or Chicago then in Dublin. We might not know the day of the week sometimes but every Dubliner or Irishman knows where to get the best pint and will never stray too far from there....
For further information and FREE tastings (with your admission ticket) visit any of the following.
The Old Jamesons Distillery, Dublin The Guinness Storehouse, Dublin Lockes Distillery, Kilbeggan, County Westmeath Tullamore Dew Heritage Centre, Tullamore, County Offaly Or try an original Irish coffee at Foynes Flyingboat Museum