Galway shops putting the 'experience' back into retail....
Here in Galway we really have the nicest shops and you won't beat it for atmosphere, especially at Christmas. Who wants to spend their money in bland, faceless shopping centres, that couldn't care less about you or your euros when you have got Shop Street....
At the top end, literally and figuratively we have Brown Thomas, a luxury department store, its corner location a hub of stylish yet affordable shopping, and all very elegant in classic black & white with a service to match. They always have the most gorgeous shop windows packed full of highly desirable goodies, so if you hear of a smash and grab raid in Galway it could well be me!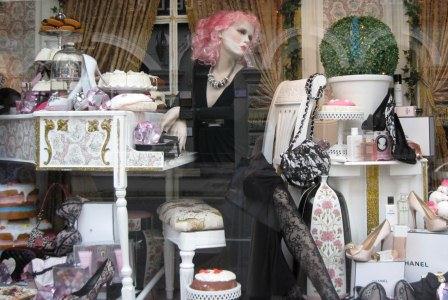 Just opposite is another shop window, I have been known to lick, Hartmanns the jewellers, where you can lust after all kinds of lovely trinkets from Rolex's to Mont Blanc and even Fabergé. Or be-dazzled by the sparkliest diamonds in Lazlo's as you sidestep into Premoli's gorgeous shoes & boots shop. The wedgewood blue and white front of the Treasure Chest hints at what's inside, a timeless emporium of traditional Irish gifts.
Further along on the right is McCambridges, a purveyor of fine foods since, well forever and a foodie haunt long before the term came into being. Down a bit further is Easons, the last of our Irish bookstores, online is taking over but people still like to feel books or pick up an international newspaper or magazine. Then there's Anthony Ryans, a family drapers that's catered for generations of Galwegians, from first Holy Communions to Weddings and everything else in between....
And from the traditional to the ultra modern, the award winning Born Centre on Galway's inland waterway system. I have a real soft spot for this place, stunning architecture, great location with possibly the best views of Galway in Galway.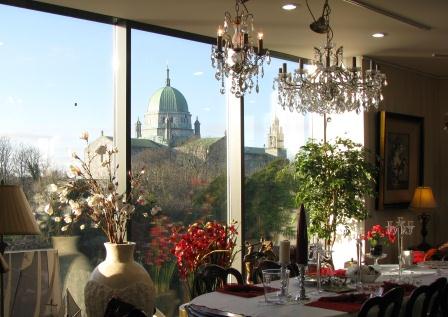 The list goes on and on....put it this way you wont leave Galway empty handed or disappointed if you are fond of your retail therapy!
Irelands Hidden Gems - Galway City Guide is now available as an iPhone app It features the 10 Best of Everything there is To See and Do in Galway, plus an extra What's On in Galway? page which is updated monthly and a handy map showing all the major landmarks etc.
The 10 Best Shops in Galway are.....
1 Brown Thomas Shop St, Ireland's leading department store, if you only have time to do one, this is it....
2 Blacoes Jewellers Mainguard St, beautiful contemporary pieces, handmade in Galway.
3 Born Centre Newtownsmith, incomparable riverside setting, overlooking the Corrib and the Cathedral.
4 Louis Copeland Merchants Rd, posh menswear shop originally from Dublin, moved West with the rest of us.
5 Charlie Byrnes Middle St, like the books themselves a much loved place to lose yourself in....
6 Cloon Keen Kirwans Lane, an 'atelier' no less in heart of Galway with perfumed candles & cosmetics made in Spiddal.
7 Cobwebs Spanish Arch, full of rare and beautiful things collected by Phyllis McNamara.
8 Hartmanns Jewellers Shop St, for all of the reasons above and more, sybarite heaven.
9 Kennys Bookshop & Gallery has moved up to Liosbaun, but the worth the trip if you want to see some of the finest contemporary art in Ireland.
10 Anthony Ryans traditional drapery shop with well stocked contemporary homestore on Lombard street.
PS We even had a Christmas Market in Eyre Square last year which was a great success so will most likely be repeated again this year, will keep you posted....
For more places to shop in Galway please click here For more Things to Do and See in Galway please click here To return to the Galway Homepage please click here