Kilronan Castle, Roscommon
Kilronan Castle in County Roscommon put's a whole new spin on romantic hideaways, first up you have to find it. Having agreed to meet a friend there for some mutual, well earned R and R we both got lost en route! But as we settled into warming bowls of delicious seafood chowder by the fire, the barmen quickly pointed out a more direct route via Sligo or Mullingar. Which was soon lost on both of us as the mist and ourselves settled in for 24 hours of downtime and some serious pampering in Kilronan Castle's wonderful spa.  Set in acres of private woodland with a huge lake from which they draw and filter the freshest water (I drink gallons of it) so nice to have it on tap as you get awfully tired of average bottled water not to mention paying for it!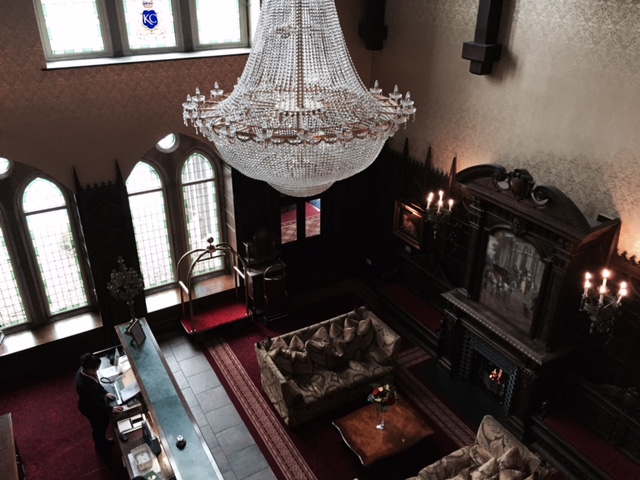 Kilronan Castle is wonderful with a huge vaulted entrance hall, massive sparkling chandelier and galleried walkway leading to the cavernous suites in the original part of the castle, don't you just love underfloor heating in a bathroom? Well, when I say original, the whole castle has been completely revamped and redecorated, with a subtle new bedroom wing, function room for weddings and luxurious Moroccan style spa. Apart from the copious free drinking water, the whole castle is heated via a wood chip burner on site so the ambient temperature is perfect, especially for the cool damp Spring we were having.....
Normally when I stay away like this I have a list of places I want to see in the area (and in fairness there is plenty to see and do around and about ) but this little sojourn was to be completely different as I had my eye on the Perfect Pamper Package which includes a body scrub, facial or full body massage as well as full use of the thermal suite and leisure centre facilities and a light lunch for €85! Mind you guests are welcome to use those anyway but while in Rome or away from home at any rate, why not indulge? I have been to most of the spas in Ireland (it's my job, sorry) and to honest quite a few of them have gotten quite tired and the staff and the packages offered complacent. Thankfully that truly is not the case in Kilronan, with lovely young therapists, many of them local, in smart uniforms with the castle crest embroidered on them, they couldn't do enough for us and even managed to squeeze me in for a perfect manicure, which lasted an hour, before dinner.
Dinner in the wood paneled dining room with drinks (an excellent Sicilian Nero) in the bar before hand whilst pondering the extensive menu was delightfully long and leisurely..... I had an excellent ham hock and fois gras paté while my friend chose a poached pair and endive salad, followed by a perfect fillet steak with the most delicious smokey bacon potato gratin, wilted spinach and shallots and more wine of course. I lovely the white linen and silver cutlery and the fact that the tables were well spaced out and you could enjoy your own conversation without being party to everybody else's. There were even a few incredible well behaved children about, fair play to their parents! Deserts included light as a feather rhubarb and rose water cream and a basil and citrus cake that was chosen for its butterscotch sauce. We would have loved a night cap only we were so blissed out and relaxed we retired to bed early and slept like well behaved babies.....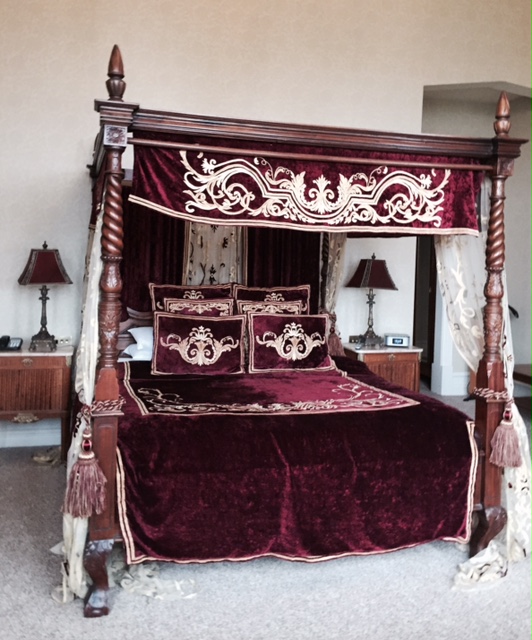 For more information or to book a stay or spa treatment at Kilronan Castle please visit visit http://www.kilronancastle.ie A good tip if you are planning a break away here is to book your treatments in advance http://www.kilronancastle.ie/luxury-spa-ireland.html as they can get quite busy....