Michael Cusack Centre
The Michael Cusack centre in Clare celebrates the national sports of Ireland which are Gaelic football, hurling, camogie and handball. Each year a major inter county championship takes place with the final being held in Croke Park for the most coveted of prizes the Sam Maguire Cup. Each county gets behind their team and if they manage to reach the final all hell breaks loose, especially if that team has not been in the running for a few years. Cars, houses even animals get painted in the team colours. Visitors are often amazed at the variety of flags and banners displayed, which reaches fever pitch towards the end of September.The man who started it all was Michael Cusack, who was born in Carron, a highly intelligent man and well educated teacher believed that 'the strength and liberty of a nation depends on the education of its people' and that sport was an essential element.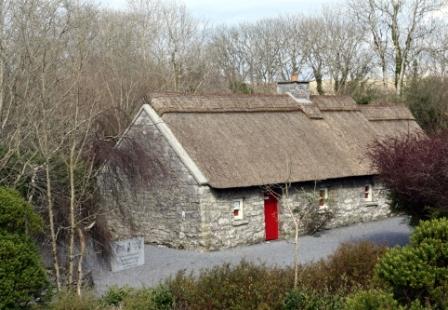 He founded the Gaelic Athletic Association in 1884. Apparently before that there were no proper rules or regulations that the players made them up as they went along, some would say they still do? Visitors are given an introduction to the history of the GAA in the new visitor centre, which also has a small shop and cafe, before being brought down to the old homestead. Hear a hologram presentation representing the man himself tells you more about the history, including a recreated classroom and finally a short film on the actually founding in Hayes hotel. Expect some special events this year as GAA celebrating 125 years.
Other things to do near the Michael Cusack centre are....
1 Caherconnell Ringfort, the only excavated stone fort in the Burren, shop and restaurant, very good Guinness fruit cake.
2 Cassidys Pub in Carron overlooking largest turlough or disappearing lake in Europe. It fills up in winter when the water table rises and dries out in summer.
3 Burren Perfumery free audio-visual presentation on the burren, herb garden, shop & organic tearooms.
4 Corcomroe Abbey Bellharbour. Ruined 600 year old Cistercian abbey and graveyard.A revered and holy place, the road up to it cuts through a ringfort.
5 Flaggy Shore described by our own celebrated poet Seamus Heaney as capable of 'catching the heart off guard and blowing it open' is a tarred road used as a walk, encircling the coast at New Quay.
6 Linannes Lobster Bar New Quay. Good Guinness and fresh seafood with a breezy sea view or in front of a roaring fire.
7 Mullaghmore spectacular scenery in the heart of Burren National Park.
8 Father Ted's House Kilnaboy turn left after the church follow the road for a couples of miles,you cant miss it?
9 Lough Bunny a curious turquoise crystal clear limestone lake, great spot for a paddle or a picnic.
10 Kilmacduagh an 8th century monastic settlement near Gort complete with round tower, several churches, cathedral and glebe house.
For more information on Michael Cusack centre please click here,