Model Art Gallery, Sligo
"Come away, O human child, To the waters and the wild" wrote William Butler Yeats the poet and brother of Jack B. Yeats the painter which accurately describes Sligo town and the surrounding countryside as well a collections of his paintings which are hung in the Model Art Gallery in Sligo. The Model was built as a school in but has since been extended twice to include more gallery space, a theatre, studios and now is one of Ireland's most important contemporary art institutions. But it all really started with Sligo's association with the painter Jack B. Yeats, who gifted one of his paintings to the Mayor of Sligo in 1954 with a note saying that in most of his work there 'is a thought of Sligo'.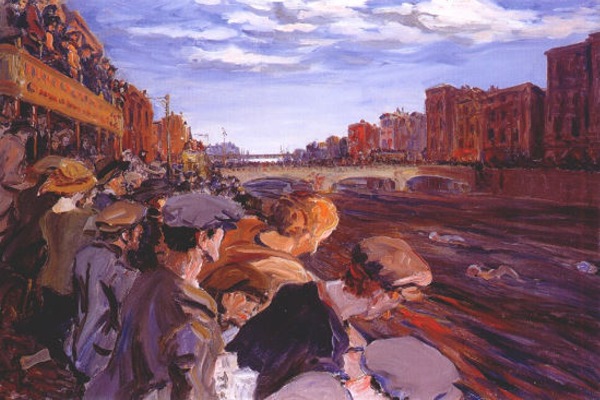 Nora Niland, who was the County Librarian at the time, managed to raise £3000 to purchase 3 more of his works, including the very famous 'Island Funeral' and so the collection began. Donations followed, building up to the fine resource it is today, which incidentally has just gone online, although you know yourself, there is no substitute for viewing the real thing. The Model draws visitors from all over the world who mostly come to see the Niland Collection of Yeats' paintings, which are shown on rotation, but there are also more by Sean Keating, the Limerick artist who also painted scenes from Irish life, Louis le Brocquy and Paul Henry.
10 Hidden Gems near the Model Art Gallery in Sligo.
1 Stay in the Glass House Hotel, reasonably priced city centre hotel from which to explore the wider County of Sligo.
2 Drive out to Drumcliffe to visit Yeats grave and his grandfather's church.
3 Hike up Ben Bulben, Ireland's own tabletop mountain.
4 Drive out a bit further to Mullaghmore to admire (from a distance) Classiebawn Castle.
5 Eat at the Coach Lane Restaurant excellent, varied selection of same priced food.
6 Have a drink at Hargadon's a very traditional pub, one of my Top 10.
7 Visit the Yeat's Memorial Building on Douglas Hyde Bridge for more information about William Butler Yeat's the poet.
8 Take a scenic drive out to Inishfree, yes it does exist where you can take a boat trip on the Rose of Inishfree out and around the lake from the following.
9 Parke's Castle is a very interesting well preserved castle with excellent guided tours including the work of blacksmith and thatchers.
10 Drop into the ivy covered Stanford's Pub in Manorhamilton, atmospheric and friendly.
For more information about the Model Art Gallery please click here.