Mount Juliet, County Kilkenny
There is no nicer place to stay than in Springtime than at Mount Juliet, which is one of the most romantic places to stay in Ireland, just outside Kilkenny city in Thomastown. Surrounded by 1500 acres of private walled estate which includes Ballylinch Stud, Mount Juliet is a fabulous Georgian house with curved wings overlooking the river Nore. Renovated at the height of the Celtic tiger, it has sumptuous interiors with delicately painted murals in the entrance hall, a cosy wood panelled bar as well as two other drawing rooms with deep, squishy sofas and open log fires, perfect for curling up and reading a book on a cold and blustery March afternoon. The bedrooms are just as beautifully decorated, spacious, yet cosy with sash windows and cushioned window seats. The beds are pristine white and feather light comfy, in fact my only complaint was that nasty thing in the bathroom? a weighing scales ! Who needs that cruel monster when you are on a gourmet, girlie or romantic break in Ireland. Mount Juliet ticks all the boxes. Not knowing the first thing about golf, other than the course was designed by Jack Nicklaus, the President's Bar in the Clubhouse is an excellent place to kick start your mini break with perhaps a delicious caesar salad and a glass of Sauvignon Blanc. Which you can walk off,  there is a choice of daffodil and bluebell lined trails throughout the estate, or sleep off with a naughty siesta, or wallow in the lovely spa with perhaps an indulgent treatment or two....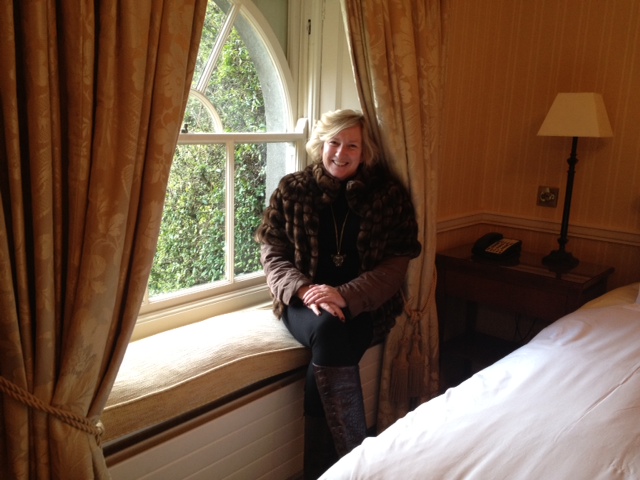 My mission, which I graciously chose to accept, was an 8 course tasting menu in the Lady Helen Restaurant, Mount Juliet runs a Taste of Thursday special which includes accommodation and dinner which you really should take advantage of if you adore food like me! Now I am not going to give the game away, sell the sizzle, as they say and not the sausage, but we are talking about a team of 6 chefs creating possibly the best food in Ireland right now. An 'amuse bouche' of  tiny beetroot tinged meringues with mackerel paté, followed by what I could only describe as a mini paradise island, lobster floating on a sea of pesto jelly and cauliflower mousse. The fillet of Duncannon turbot was perfectly cooked and best I have ever tasted which came with Beluga lentils, fois gras, fennel fettucine and heritage carrots.... We then had six more courses to follow....including a sublime celeriac and pear sorbet on a whipped almond parfait and roast duck with herb infused couscous, rhubarb and yoghurt...
And if you are worrying about your waistline or it all being a bit too much, don't! This is a tasting experience with the emphasis on taste obviously, so the portions are not huge, thankfully. But, more than sufficient to appreciate the variety, flavours and combinations which are as original as the plates are decorative and well balanced. We finished up, eventually, about midnight in the bar with coffee and petit fours, another work of art competing with those on the walls, in the company of other diners who were just as overwhelmed and complimentary. And if you think you might never eat again, think again, the eggs Benedict or French toast with crispy bacon and maple syrup the following morning are enough to get those taste buds going all over again! 
Mount Juliet features as one of the Top 10 Tasting Menu Venues in mybest selling Irish Travel Guide on Amazon.com Where To Eat, Sleep & Play in Ireland in 2015 
For more information about Mount Juliet or to book the Taste of Thursday experience please click here