The Boathouse - Oranmore
Rudi Rabasse, named his new restaurant The Boathouse in Oranmore, after his second love, fly fishing on the Corrib, which he enjoys in his spare time. Not that there will a whole lot of that judging by the reaction of Galwegians to this new venture which occupies the old Moorings premises in Oranmore. Handy for access and parking, it is the perfect choice for Sunday lunch oran evening meal if you don't fancy venturing into Galway city itself. Rudi, who hails from Normandy, has 20 years' experience himself in the restaurant business as a chef and manager has employed two former Gordon Ramsey trained chefs, so you can expect top notch food at pleasantly, surprising prices. The interior has been given a complete makeover and is extremely warm and comfortable. Another excellent idea that Rudi is in the process of installing is a dedicated children's play area, so that their parents (and other diners) can enjoy their meal in peace, nice one!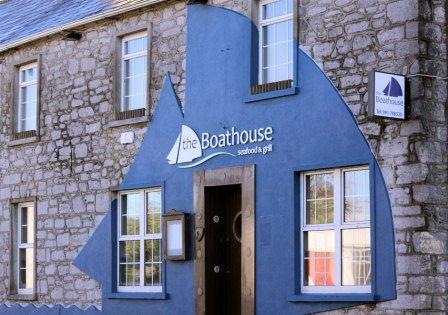 We arrived at The Boathouse for Sunday lunch on a cold, dull, day so we really appreciated the softly lit, quiet, carpeted interior with starched white linen and fresh flowers on the tables. I don't think I had quite realised up to that just how much the quality of an interior and the overall ambience contribute to the experience of eating out. It was a great start and judging by the set menu €25.95 for 3 courses, €20.95 (including coffee) we were in for a treat, what seemed like standardfare, smoked salmon, goats cheese etc., turned out to be wonderfully tasty and beautifully presented.
Rudi's mission is to include the freshest, most seasonal produce available from local suppliers. Debating between a risotto and roast beef, the Yorkshire pudding cinched the deal while himself had the fish pie, both were delicious with proper vegetables, baby potatoes, chunky carrots and parsnips. It is such an obvious thing to expect in Ireland, perfect, fresh vegetables but it so seldom happens.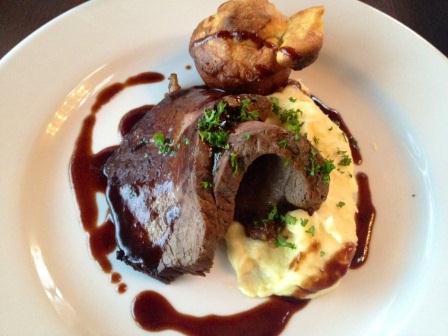 Similarly with the deserts, how often do you see flair and originality, at those prices, both the chocolate parfait and crème brulee with orange & cumin shortbread were perfect. So much about dining out in Ireland is random and one really does have to applaud Rudi and his contemporaries who are bravely opening up new restaurants and working exceptionally hard to bring the very best dining experience to their tables.
Bon chance Rudi….
For more information or to make a booking at The Boathouse please click here