The Fatted Calf - Athlone
The Fatted Calf an Irish Gastro Pub in Glasson village, just outside Athlone in County Westmeath is now only an hour (and a bit) from either Galway or Dublin, thanks to the new M6 motorway and the fact that both of my friends, whom I met there recently, both drive seriously fast cars! My friend Lisa from Galway reckoned it was THE best burger she had ever eaten in Ireland…. And only a born and bred New Yorker could wax lyrical (while licking her lips) about how the beef was cooked to perfection (rare) the blend of melted cheeses was exquisite and had just the right amount of rocket....while tucking into a side of neatly stacked crispy onion rings….please? I had a bite and I have to say (as always) she was right...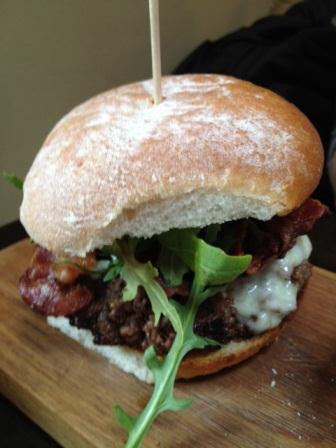 Not that I wasn't happy with my buttermilk coated chicken which is something I would never ordinarily order (because let's face it I can eat chicken any day of the week at home) but another friend & fellow travel writer Pol O'Conghaile had been raving about it so much I just had to try it and...he (too) was right, deep fried perfection, but light as a heavenly feather and crispy, crunchy magnificent. Our more health conscious friend Maria from Dublin (an excellent cook herself)chose the lemon sole with spring vegetables which she also pronounced wonderful, but even she couldn't resist digging into our bucket of hand cut, potato chips...
The thing is you can eat ordinary food in Ireland or you can eat extraordinarily good food for just a little bit more effort (ie seeking these places out) and money (but not that much more) Lunch for the three us including mains, a bottle of Sauvignon Blanc (mandatory for a girlie lunch) deserts, coffees & tip was €30 a head. Which we felt was great value as apart from the wonderful food, we felt like we had, had a day out and one we would certainly be repeating again soon or at least that's what I think that's what they were shouting over the screech of tyres....
The Fatted Calf is one of the Top 10 Irish Gastro Pubs listed in my best selling Irish Travel Guide on Amazon.com Where to Eat, Sleep & Play in Ireland 2013 For more information on The Fatted Calf please click here