Trad on the Prom, Salthill, County Galway
Trad on the Prom is excellent. Full stop, no arguments on each and every count, tap, note...It's not often you come across something you want to shout about from the roof tops but Trad on the Prom is all that and more. If you have never seen River Dance or Lord of the Dance and even if you have and happen to be in Galway, you should go and see this show. Most of the performers are home for the summer for this show and World Champions to boot ! (or shoe). The difference being you can get up close and personal to the action on stage and actually see and hear what is happening properly. It's thrilling, I couldn't sleep for hours afterwards it was so exciting....
No more than myself you probably won't remember their names but we are talking serious world class talent here with sylph like Claire Graney having won the World Irish Dancing Championship no less than 6 times, similarly the incredible Keaney brothers, Fergal and Cathal, also world champions "putting it up to" fantastic Cian Nolan as seen in the video below. As well as Ireland's top "Sean Nós" dancer Emma O'Sullivan, a raven haired beauty with a fabulous smile from Connemara. Not to mention the superb music and tunes played by supremely accomplished Mairín Fahy accompanied by her husband and producer of the show, Chris Kelly. Mairín's sister Yvonne, formerly with the Chieftains, is there any musical instrument this lady can't play? And virtuoso piper Gerard Fahy, who flew in especially for the show, fresh from a live television interview in London with legendary Michael Flatley, he's only the muscial director of the Lord of the Dance, I mean could you get any better? 
Trad on the Prom developed organically 10 years ago out of catch up sessions between ex members of shows like River Dance, Lord of the Dance and bands like the Chieftains that had travelled the world and (semi) retired back to their native Galway. The heart of traditional music in Ireland, it is famous for its talented musicians, singers and dancers. What seems to be have happened is that they have brought all of their combined experience gleaned from years on the international circuits and whittled it down to the very best and finest event showcasing Irish music, song and dance in Ireland. Coupled with modern sound and lighting systems, imaginative choreography they have developed a superb product that appeals to all ages and demographics. In a word, it is perfect, fresh, lively, totally professional and not an ounce of twee, thank God. I would go with my friends again and again and recommend it to my American clients in a heartbeat.... or tap!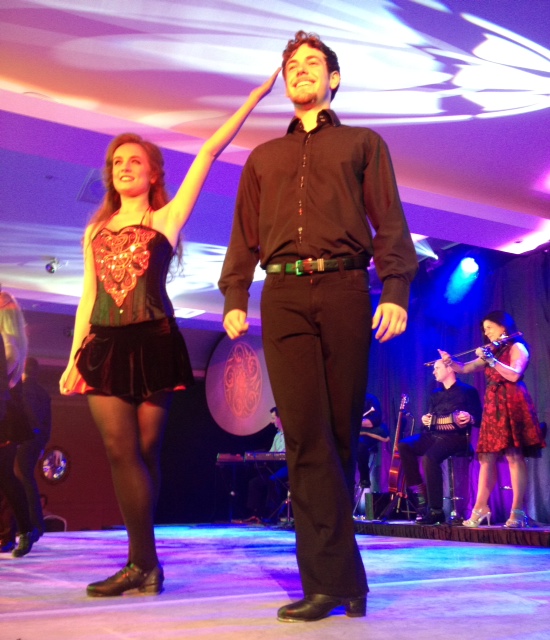 But apart from all of that talent and innovation, it's the little (ordinary) things, done (extraordinarily well) that really count with me,  especially when I am recommending the show to my readers. The price is right €30, for a 2 hour show, that starts on time, at 9pm sharp with a 10 minute (exactly) interval midway. The venue is great, the Galway Bay Hotel,  plenty of easy, stewarded, free parking and comfortable seating, get there early and you can sit in the front row! But, best of all in my book is that you can meet the cast afterwards, who are only too happy to mingle with the audience and generously chat or have their photos taken with you. Now's there something you would never get in Carnegie Hall.....
For more information or to book online please click here.