Ballinamore Cottage
Ballinamore cottage is a newly refurbished cottage, lovingly restored by its owners, situated in one of the most beautiful but little known or explored parts of Ireland. Surrounded by lakes and rives and close to the source of the mighty Shannon river Ballinamore cottage is a fishermens/boating enthusiasts paradise. Explore the towpaths and multiple locks of the recently reopened linking canal to upper Lough Erne and beyond, a natural haven of wildlife, flora and fauna and idyllic walking country.
The owners have taken great care to retain the original feature and in keeping with its natural setting have used only eco friendly materials in the restoration of this lovely property. Powered by solar panels it is insulated to the highest specifications and consists of a lounge/kitchen on ground floor with the original stone fireplace, ideal for cosy log or turf fires to curl up & read by in the evenings......
Accomodation is generous with 2 ensuite bedrooms on the ground floor and a 1st floor mezzanine area with twin beds upstairs the cottage is ideal for a quiet, relaxing holiday for couples or families, with spectacular views out over the surrounding countryside. Bicycle hire is also available with easy access to the local towns of Ballinamore and Drumshanbo, which is renowned for traditional Irish music with free sessions in most of the pubs throughout the summer and should you over indulge in a few to manny pints of Guinness you can always call the owners, who run their own taxi business for a cab home.....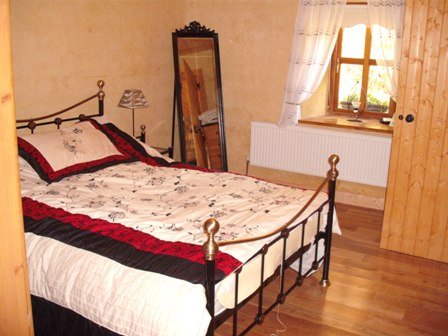 Wonderful and different, you wont go wrong with this rental property, available for weekly lets during the summer and weekends off season. Phone Mary on 087 2039565 or email her at ballinamorecabs@eircom.net for details on rates(from €300 weekly)and availability, mention Irelands Hidden Gems and she will give you a good deal!
For more things to do in the Midlands while staying at Ballinamore Cottage please click here