The Bulman Pub, Summercove, Kinsale, County Cork
West Cork has often been described as a state of mind rather than an actual place, but you know what? I think I may have found it ! The Bulman Pub in Summercove, just outside Kinsale, conjures up that feeling like nowhere else in Ireland, never mind West Cork. If your dream is to land up in a tiny harbour side pub that has quaint oozing out of its walls then this is it. Customers are encouraged to take their drinks outside to admire the sunset which mellows the orange painted exterior and squinting sash windows at the end of another perfect day, while a jaunty painted Spanish sea captain hints at the pleasures within? whether it's a perfect pint, cold savignon blanc, a hearty bowl of chowder, platter of oysters (with Bloody Mary sauce) or fresh lobster by the fireside or in Toddies Restaurant upstairs....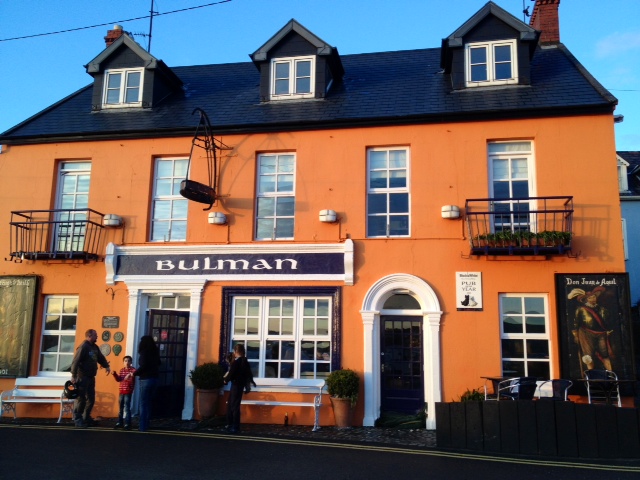 A word of warning, this is no ordinary pub grub, sorry now in advance to all the great and good restaurants that it has been my pleasure and privilege to eat in, but credit where credit is due, ye are all going to have to go back to your drawing boards! Master chef, Pearse is cooking up a hell of a storm and his lovely wife Mary is backing him all the way, the pair of them as enthusiastic and quietly passionate about food and fish as any young couple eager to make a living for themselves could be, but primarily listening to their customers and giving them what they want? Which is lobster and more lobster, although Mary tells me 'the lobster have gone deep' (the water is too cold yet, I know the feeling) and scarce, so there is a waiting list of fans watching for news of a fresh haul on their facebook page !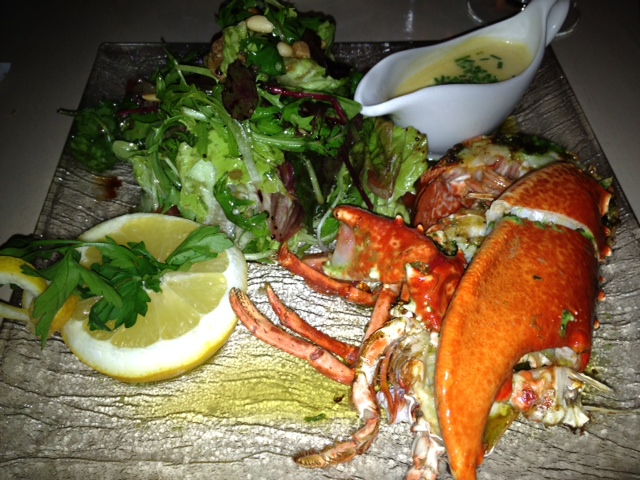 Therefore having ordered lobster bisque, I was surprised, delighted (and honoured) to be presented with a half a fresh lobster, side of dressed organic leaves and a sauce you would happily drive196 kms at the drop of a hat, for ! Folks, it was the most delicious thing I have ever eaten and that's no word of a lie. My partner had a roasted pepper soup, he insisted I smelled, it was like a steamy thai facial. His mains fresh light as a feather battered monkfish and mine? (I know, but I hadn't counted on lobster to start) fresh scampi. We finished up (near midnight) with a perfect chocolate parfait and pistachio icecream (between us) as well as a lot of finger licking and lip smacking and omg's how good was that....
The Bulman pub is listed as one of the Top 10 Seafood Restaurants in my best selling Irish Travel Guide on Amazon.com 
Where To Eat, Sleep & Play in Ireland in 2014. 
To book a table at the Bulman Pub in Summercove, please click here
To return to the homepage about Kinsale please click here
More Things To Do and See in West Cork please click here