County Arms Hotel - Birr
The first thing I noticed about the County Arms Hotel in Birr was the profusion of fresh flowers in particular, the numerous vases of sweet pea which (in case you don't already know) have the most beautiful scent, reminiscent of summers past, which instantly made me feel welcome and at home. My first introduction to the owner Willy Loughnane was (fittingly enough) in the hotel's garden where he was stoking the turf fire in the vine canopied gazebo (one of only 3 such in Ireland he was quick to tell me, I love storytellers don't you?) in readiness for a wedding party that were due to arrive shortly.
Many more stories and 3 days later that time everybody in that same wedding knew Willy by name and had met his sons Connor, Barry, Peter & Stpehen who all help run the hotel along with their mother Gene who is responsible for all those fantastic flowers. The Loughnane family who are widely known and respected throughout the land are currently celebrating 50 years in the business this year. Willys father bought the present hotel as a private house Moore Park back in the 60's and since then it has been slowly evolving into the thriving business it is today and while his father didn't live to witness the success his wife did while raring 10 children in the process !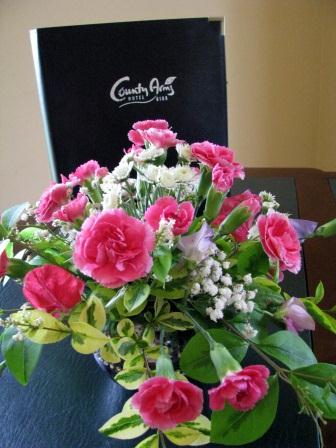 The Loughnane lads, while widely travelled and experienced are more than happy to be back in Birr, in fact the County Arms seems to be the hub that is Birr town and indeed the county of Offaly. You are as likely to see bridal parties as camogie or hurling teams trot through reception, corporate suits (the Loughnane have some class ties) bus tour passengers and independent tourists who have discovered the Magical Midlands as well as the loyal locals who celebrate christenings and funerals there (as well as all in between) It is a constant hive of activity and definitely party central with music and entertainment in the bar every weekend...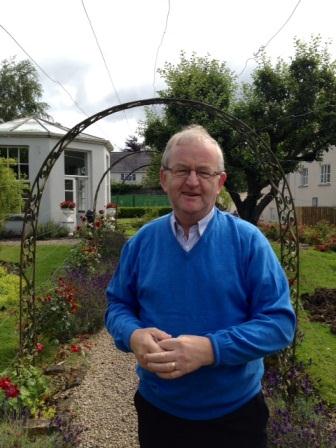 But be warned, if you are into a generic, slick 5 star hotel experience the County Arms is not for you. It you want to be anonymous where the only thing the staff will ever know about you is your room number and credit card details don't even think about it. This is the way hospitality used to be in Ireland and the way it seems to be going again. thankfully. I mean where else would you have the owners wife present you with a bunch of sweet peas from the garden on your way home and get a big hug from Willy, who is supposed to be retired "but sure, we can't keep him away" says Barry. Why would you ever want to I wondered isn't he the man who is putting the smile on everyone's faces, God Bless him!
The County Arms has great 50th Anniversary deals at the moment and to honest there seems to more happening in Birr than Galway this year judging by the line up entertainment and events? Which include Birr Vintage Week, the Irish Game & Country Fair, Hot Air Balloon Championships as well as all the other interesting Things there are to See and Do in the Magical Midlands.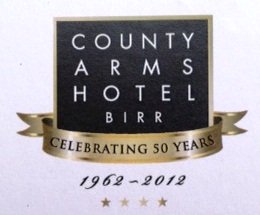 For more information on the County Arms Hotel please click here

For more Things To Do & See in the Midlands please click here