The Friendly Farmer - Athenry
"Christmas is coming and the goose is getting fat…" goes the nursery rhyme and pastoral life on the farm in the Athenry, County Galway where Ronan Byrne aka the Friendly Farmer is rearing some very special turkeys and geese for the Christmas market. Compared to factory reared birds these lassies have an idyllic life (up to that inevitable point) being well fed on a mixture of grain and barley. They have plenty of space and the relative freedom of open pastures throughout the day with the option of deep, cosy straw bedding indoors if they fancy a snooze? The bronze turkeys are so called because their feathers while black take on a bronze tint in the sunshine, not that there has been a lot of that lately!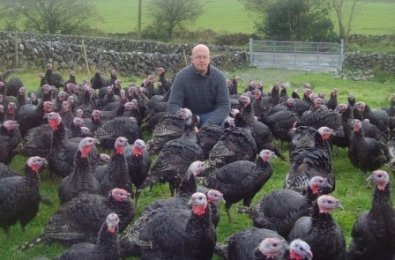 In fact there's a great video of the geese in the recent snow on the Friendly Farmers blog, see link below, they just didn't know what to make of it? Which is kind of the same leap in the dark Ronan and family, who have been farming this land for generations, took when they switched to this 'open pasture' method of farming five years ago in an attempt to redress the balance of intensive poultry production and the growing demand for better quality food.
Working with the natural cycles Ronan produces plump Spring chickens in the Spring, ducks for the Easter and Halloween plus the above mentioned turkeys and geese at Christmas. Ronan sells direct to the public from his farm shop and at the Galway Market where he has teamed up with Allen brothers of Castlemine Farm who produce the best home reared rashers and sausages in Connaught. However, you need to book your turkey or goose in advance, although they are getting scarce at this stage! You can order online for delivery nationwide on the 21st December or call him directly for collection at the farm or the Galway market on the 23rd December. Ronan's mobile number is 087 6203765
For more about the Friendly Farmer or to order online click here

For more information on the Galway Market please click here