Harveys Point Hotel
Don't be put off by the fact that Harveys Point Hotel in Donegal is quite far away as, in life, it is always well worth going that extra mile. You will be rewarded with a (Swiss) chocolate box view of a charming lakeside hotel surrounded by mountains, which are often snowcapped in winter and a fond reminder of Switzerland, from whence the Gysling family hail, having brought their unique brand of hospitality and Swiss perfection to this remote and very beautiful corner of Ireland.
What started out as a holiday home in the 1980s, a small cottage, bought from the two brothers Harvey (as in the Point) has now become a popular 4 Star hotel with an International reputation and loyal Irish clientele who return year in year out, and not just for the wonderful food and picturesque surroundings. Although you could happily relax here, going for walks, fishing or boating on the lake ie priming yourself for a gourmet feed at night. How does pan seared scallops with a white chocolate veloute sound? Followed by a carpaccio of vension, toasted almonds pickled cabbage and chocolate ganache? You can see where I am going with this can't you and its not weightwatchers?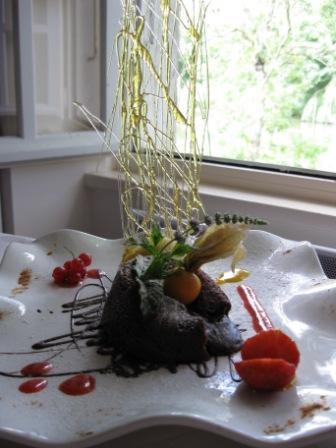 But Donegal has so much to offer, as a county, magnificent scenic drives, along sheep lined roads, past blue loughs and towering mountains, to long empty white Atlantic beaches backed by wind beaten fishing villages not to mention Donegal town itself. Which is still quite quaint and charming and full of old fashioned gift shops that had their hay-day when the Yanks used to come and buy oodles of tweed and aran jumpers and Waterford crystal, God Bless them. But it's still great and well worth a visit, especially to the castle which was home to fighting princes of Donegal for some 600 years before the fled to France with the flight of the Earls in 1607.
There is so much to do within easy reach of Harveys Point Hotel, an absolute must is Glenveagh National Park, Glebe House home to artist Derek Hill who kindly bequeathed it and his extensive collection to the Irish nation. Drive through the 'poisioned glen, to Dunfanaghy and beyond taking in the landmark Mount Errigal on the way. Donegal is steeped in tradition and culture and you wont have to go very far off the beaten track to become immersed in it, most of the pubs have traditional music at night and Harveys Point Hotel itself has bar entertainment most nights, so you can kick back and relax or join in with the craic if you like, a kind of Irish style après-ski? ie without all the hard work, I like it.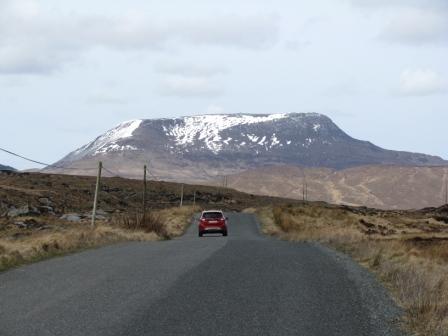 For further information & the best rates at Harveys Point Hotel please click here.

For more things to do and see in Donegal please click here