Ride an Irish Horse....
If it were not for Noel of the Birr Equestrian Centre I would never have gotten up on an Irish horse ever? I think you have to learn these things as a child and my mother insisted we do Irish dancing instead! Considering I still don't know my right hand from my left, my poor feet didn't stand a chance, so that was a waste of time… But my love of horses endured, drawing and admiring from afar until other leisure pursuits beckoned like sailing and swimming which thankfully I was good at so I never really thought about it much after that. Although I often get email enquiries about ponk trekking, or just riding an Irish horse on a beach somewhere in Ireland (which I had quite right had to admit I knew nothing about) as I was full sure that there wasn't a notion any of them would let me into the paddock never mind up on the back of a horse without checking for faults or former refusals.....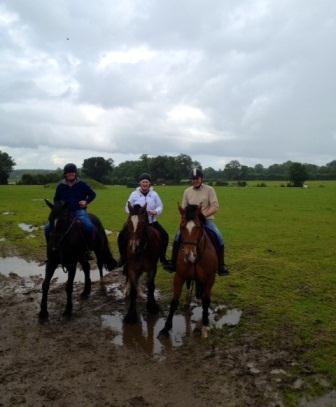 Not so at the Birr Equestrian centre, before I even had time to list off my excuses I was up on the back of probably the quietest horse in the stable, Charleo being led around the indoor arena by Lauren while being given a crash course in horse riding "hold the reins like this, forward, stop, go, right, left" easy, peasy... After a few more turns, off we went for a trek around the nearby lanes and meadows on Noel's large farm. My survival instincts kicked in and I knew to act relaxed and look brave so as not to spook myself or poor old Charleo. So, apart from a few hairy-scary moments when himself wrenched a few mouthfuls of leaves off the trees or put his head down to chomp grass when we came to a gate, I am happy to report that not only did I survive the experience but actually enjoyed it. So much so that I am very much looking forward to doing a proper trek up into the beautiful Slieve Bloom Mountains one day soon. In fact, it seems like an extremely pleasant and easy way to see those bits of the countryside that you could never get to by car with no sweaty biking or hiking either, which suits me do down to the ground of course. Now, if I could just manage to take photos while doing the rein holding thing....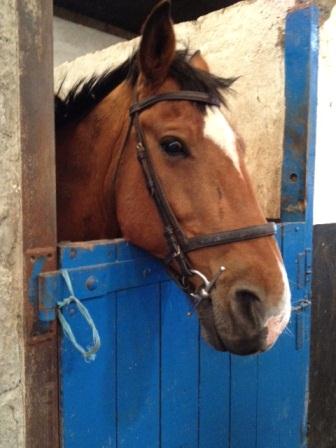 If you would like to ride an Irish horse please click here

For more Things To Do & See in the Midlands please click here