Jewellery Box
Ireland is renowned for it's magnificent landscapes being blessed with a diversity not many countries can equal, but having just picked up Daragh Muldowney's beautiful new book even I have had to do a double take? Called Jewellery Box -Irelands Hidden Gems (I wish I could have taken credit for it) but am more than happy to endorse his excellent work. Daragh spotted something (under his feet) no one else did and had the creative genius to expose it, in this wonderful selection of images. Inspired by Dulra (Irish for the natural elements) he spent the last summer exploring the miniature landscapes of Ireland's coastal rock pools. Getting up close and personal with these tiny universes, that are surprisingly teeming with life, prompted a deeper introspection, apprectiation and respect for nature in Daragh that he now stirs in us...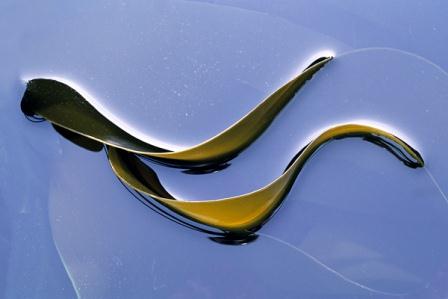 The results are spectacular and the digital imagery surreal at times, like the image above (my favourite) entitled 'Inner Peace', two pieces of random floating oarweed that could be a resin sculpture yet hint of much, much more... 'Rusty Contours' a fusion of lichen and algae, mirror the hand painted Chinese wall papers of Irelands great houses, while Picasso's Eyes speak for themselves. Most telling perhaps the 'Origin of the Species' a backlit jellyfish in a froth of air bubbles, smacks of the big bang...
Michael Viney, Ireland's most eminent naturalist wrote the foreward (an accolade in itself) in which he, so eloquently, applauds the young self-taught Daragh's artistic eye in capturing more than just images but also the connection between man and nature that has existed since the time of cave paintings right up to and including the mad digital age we live in, when its often all too. There is no space or distance from which to view or marvel at nature in the way we might have once done as carefree children splashing about in rock pools.
This book is a rare opportunity to do just that, view the world with fresh eyes, Picasso Eyes...
To buy the Jewellery Box Book online please click here

For more about Irelands Landscapes please click here

If you fancy rockpooling yourself visit Irelands Top 10 Beaches